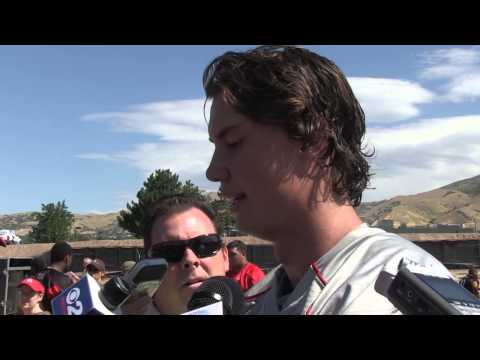 View 31 Items



SALT LAKE CITY — Utah coach Kyle Whittingham wasn't all that impressed with his team's first practice of preseason camp. He noted it was "nothing special" and "very average," particularly at the beginning.
Although things picked up as the opening session progressed, Whittingham said he expected more early on — particularly from the seniors. The coach reminded the players about that before they departed Ute Field Monday morning.
"If you start the way that we started then it's going to be a long season," Whittingham said. "So we've got to be ready to go from the beginning. You start slow in a game and you're down 21-0."
Picking up the pace is a high priority for the Utes, who are coming off the program's first losing season since 2002.
"We've got to be better," Whittingham said. "If we want to be 5-7 again keep operating like that. But if we want to get better and make strides forward, then we've got to come out with a little more resolve than we did today."
Whittingham is confident his post-practice conversation with the seniors about coming out flat will be resolved.
"They'll fix it," he said.
Things were a bit subdued, however, as the Utes took the field exactly one week after incoming freshman Gaius "Keio" Vaenuku was killed in a rollover accident in New Mexico.
"I think we handled that OK," Whittingham said. "We talked about it in the team meeting last night and I think everybody's on the same page."
While acknowledging the tragedy, Whittingham noted that the Utes have work at hand as the season approaches. They plan to wear a sticker on the back of their helmets to honor Vaenuku.
"We miss him, obviously," Whittingham said. "But we've got to move forward."
Freshman offensive tackle Salesi Uhatafe, who survived the accident, is expected to join the team in one week. Whittingham said Uhatafe is doing OK, but he struggled at first. His stepbrother and brother were also killed in the wreck.
"It's tough on him. He's been through a lot," said Whittingham, who met with Uhatafe's family while in Texas for Vaenuku's funeral. "We'll support him, however he wants to handle it."
On the field, Whittingham said the quarterbacks looked sharp in the first practice. Travis Wilson tops the depth chart, while Adam Schulz and Brandon Cox are listed as the backups. They took a majority of the reps. Conner Manning and Micah Thomas, who did not join the team until after spring ball, were give some extra snaps in a special session at the end of practice.
"The first day of camp went really well. I'm really glad to be back out here again," Wilson said. "I'm really excited for this season. So far we've started out really good."
As for the competition, Wilson insists it's a good thing.
"I definitely relish it. I had to do it when I first came in. I always know there's going to be younger kids coming in, trying to take my spot," he said. "I love to compete. The quarterbacks we have are real good here so I know they're definitely going to be pushing me for my spot."
The Utes practiced hard, Wilson continued, and everything went how they wanted it to.
Co-offensive coordinator Dennis Erickson agreed.
"I thought it was good. I thought our tempo was good offensively," he said. "It's great when you put something in — in the spring — and now they come back and the memory of what we were doing was really good. We probably could have run our whole offense today with the first couple of groups."
Erickson added that the tempo and what the offense did at the line of scrimmage in the first practice was a carryover from the spring.
Senior defensive end Trevor Reilly also liked some of the things he saw on opening day — noting it was exciting and the weather was great.
"It was awesome," said Reilly, who added that his surgically repaired knee felt great and he didn't even thing about it.
*****
Utah camp report
Day 1: The Utes opened their NCAA-mandated five-day "acclimatization" period with helmets and shorts Monday morning. A similar session is scheduled for Tuesday at Ute Field. (All practices are closed to the public.)
Standouts: Utah coach Kyle Whittingham said the quarterbacks looked sharp. He also noted the play of running back Troy McCormick, defensive tackle Sese Ianu, defensive tackle Tenny Palepoi and left tackle Jeremiah Poutasi.
Injuries: Players in "The Pit" included offensive lineman Carlos Lozano and wide receiver Andre Lewis.
Overhead: "We're going to be more up-tempo this year."
— Utah coach Kyle Whittingham
Email: dirk@desnews.com
Twitter: @DirkFacer