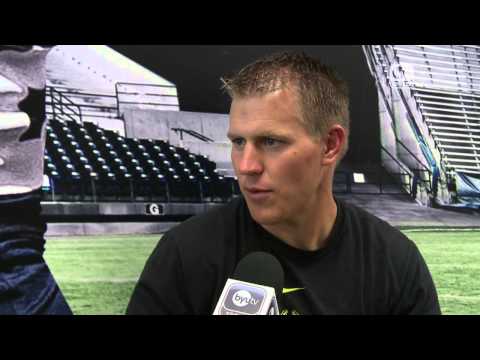 View 2 Items

Will BYU ever have another Ziggy Ansah?
No.
His situation, story, background, media hook, freakish talent and arrival in the NFL after playing the game for only a few years will likely never be repeated, even with the growth of the LDS Church expanding Cougar recruiting opportunities.
But if there was ever a guy who may come close — not in the sense of a media magnet — but in terms of actual down after down on the grass football play, it's sophomore defensive end Bronson Kaufusi.
Kaufusi is two inches taller than Ansah at 6 foot 7.
Kaufusi is 12 pounds heavier than Ansah at 282.
Kaufusi can do the 225-pound lift 27 times, which is six more reps than Ansah did at the 2013 NFL combine.
Kaufusi can run 40 yards in the 4.6 range, just a few ticks within the 4.63 time Ansah posted at the combine. He ran a 4.67 at a high school combine and says he's chipping away in the 4.6 arena now — albeit packing an additional 50 pounds.
First there's genetics: Ansah had no relatives that played football. Kaufusi's father Steve and uncle Rich Kaufusi and his mother's brother, Craig Garrick, played at BYU and others in the bloodline played at Utah, including Doug, Henry, Jason, Jeff and Sonny Kaufusi.
Then there's basketball. Kaufusi actually did make a Division I basketball roster, scored points, grabbed rebounds, played defense and fouled opponents. BYU basketball coach Dave Rose cut Ansah after tryouts.
Kaufusi enters his sophomore year with several thousand times more feel, understanding and exposure to the game and is the son of a professional coach and former NFL player.
So, can Kaufusi supplant Ziggy as a major defensive terror on BYU's roster?
"That's the plan," said Bronson, smiling so wide it almost broke his face.
Today, Kaufusi is in the best shape of his life, with the momentum of athletic training for the first time in four years.
While playing for Timpview's football powerhouse, Bronson had ACL surgery at the start of his senior year. This came after receiving an invite to the Under Armor All-American game. Then he went on a mission for The Church of Jesus Christ of Latter-day Saints directly after high school.
Within 48 hours of his return from his mission last summer, Kaufusi was practicing football. After the 2012 football season, he again had no offseason conditioning when he immediately joined BYU's basketball team.
When basketball ended in March, Kaufusi finally got a chance to have offseason training. Since his mission his body fat index has come down from 23 to 10 percent. His family looks at his mission picture and laughs at the difference. Trainers say Kaufusi is a crazy workout fanatic and his father and BYU conditioning coaches have counseled him this summer to slow down and take a day or two off.
In other words, in 2013 BYU will get far more production from Kaufusi than in 2012 and significantly more than they ever got from Ansah as a sophomore.
Ziggy is a humble, quiet, almost shy athlete who didn't exactly heat up to interviews with media.
Kaufusi's enthusiasm is like a neon sign — it lights up a room. He is so eager, anxious and accommodating, you wonder what kind of vitamin he's been chewing.
His mother Michelle calls Bronson her little "hot body" because all his life he's entered a room on the move, in motion, never stopping, never at rest — and he was always a little flame.
On Monday, Michelle had just finished a swim class when she got a text from Bronson asking if she was coming to watch his practice. He was so fired up, so excited, she texted back and accused him of acting like a 12-year-old.
"That kid has always had so much energy from the second he was born. He's so loving and it's like he just fills the room with energy, excitement and his spirit," said Michelle.
Steve and Michelle got married later in life when Steve was playing in the NFL. When Michelle was pregnant with their first child Alexis, Steve came across the name Bronson, which means "son of the dark one." Since Steve is Tongan and Michelle is white, he liked that name because he was the dark one, according to Michelle.
Alexis was supposed to be named Bronson until the parents found out she was a girl and then it was saved for the next one, which was the son, the second child.
If hard work counts for something, he's more than making up for a lot of lost time.
He did 51 segments of the beep test, a commonly used running aerobic fitness test that has decreasing timed intervals of 22-yard shuttle sprints back and fourth. To give you an idea of how good that was, former NFL running back Fahu Tahi, who weighed 40 pounds lighter, did 60 at BYU. Doing 51 segments is about the average of what members of BYU's soccer team do, according to Bronson.
The past five months have been like no other for the sophomore. He's never had this kind of time to prepare his body for football.
"I've actually had time to train, so I've taken advantage of it so I can have the season I want it to be," said Kaufusi.
He admits he's found more energy, more drive, and more motivation than any time in his life.
And he's ready.
In the post-Ziggy era at BYU, that is a good thing.
Dick Harmon, Deseret News sports columnist, can be found on Twitter as Harmonwrites and can be contacted at dharmon@desnews.com.