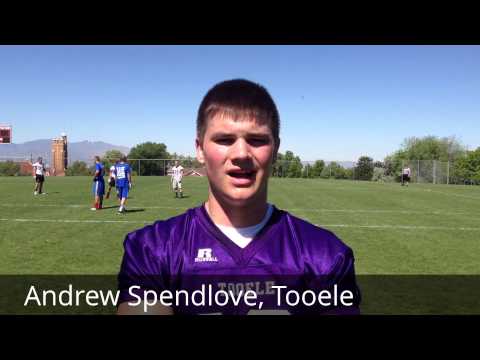 View 16 Items

I'm pretty excited about this year. We're still pretty young. We'll probably only play four or five seniors, maybe a few more. We had a lot of juniors play last year as sophomores, so we have quite a bit of experience back, but albeit young experience.

—Tooele coach Kyle Brady
Note: Tooele finished with a 1-9 overall record in 2012 and was sixth in Region 11 with a 1-5 record. It did not qualify for the playoffs.
TOOELE — It's been six years since Tooele's football program had a winning record, but coach Kyle Brady believes the program is on the up and up finally.
Despite winning just one game in 2012, there were subtle positives throughout the obvious struggles. First and foremost was the experience gained by the young players in the program.
"I'm pretty excited about this year. We're still pretty young. We'll probably only play four or five seniors, maybe a few more. We had a lot of juniors play last year as sophomores, so we have quite a bit of experience back, but albeit young experience," said Brady.
Secondly, the freshman and junior varsity teams both posted winning 5-4 records a year ago, victories the program desperately needed to build some confidence heading into the offseason.
Brady hopes the improved mentality leads to more success as the Buffaloes embark on new challenges in the revamped 3AA.
Another reason for the tempered optimism is an improved understanding of the Wing-T offense. In Brady's first year as Tooele coach back in 2011, the Buffaloes went 0-10 and Brady decided an offensive overhaul was necessary. He believed the Wing-T gave the program the best shot at future success, but there was an obvious learning curve in 2012.
A year later, all of Tooele's projected offensive starters have a full year of Wing-T experience, which could help immensely.
"After going back and looking at our film, we just have a few guys that need to clean up blocking and where to hit the holes. Hopefully we can change those little 2- or 3-yard plays and pop some bigger ones where we're getting 8, 9 or 10 yards where we're hitting the hole on the outside instead of the inside, (and) the lineman coming over to pick up inside guy instead of outside guy," said Brady.
If his players make the necessary strides, there's probably only two games on the 2013 schedule that Tooele will be an obvious underdog in.
Another potential benefit to a more efficient offense is a better defense. Tooele allowed more than 37 points per game last season, but Brady said that stat is a bit deceiving because the offense routinely put the defense in bad spots because of turnovers.
Defense should be Tooele's strength this year, thanks in large part to a strong core of defensive linemen.
"Our inside guys will be our strength. We have eight guys on the D tackles who can play. Hopefully they can keep guys off our linebacker so we can run around," said Brady.
Among those eight are Tony Leakahe, Ethan Reynolds, Lawson Ross and Daniel Aragon.
Another strength defensively is Andrew Spendlove. Tooele's leading tackler a year ago, Spendlove is moving from middle linebacker to outside linebacker in hopes of using his athleticism to make even more plays on the edges.
"I expect him to be the leader of our team and vocally make sure kids are in the right spots," said Brady.
The rest of the linebacking corps is relatively unproven, but Brady's optimistic the talent is there to fill those holes.
Offensively, Brady will lean heavily on two of his younger brothers, ironically enough. Junior Jake Brady will start at quarterback while sophomore Ryan Brady will start at running back.
Jake Brady made the occasional appearance at QB last season, experience that could pay off this year.
"He's a little more athletic than the QB we had last year, so I think that he can create some different problems for teams with running the ball and getting out on the waggle stuff and having the threat to run," said coach Brady.
Brady had wrist surgery on his throwing hand in early May, which might hinder his throwing a bit early on. He's a powerful runner, though, which is an upgrade this season.
Tooele Buffaloes at a glance
Coach: Kyle Brady is entering his third year as head coach at Tooele with a 1-19 record thus far. He's a graduate of Tooele High School and was the 2002 Deseret News Mr. Football recipient.
Offense
(7 returning starters; Wing-T offense)
Tooele was the third lowest scoring team in 3A last year at 11 ppg, but expect much more efficiency this season in the Buffaloes' second year running the Wing-T offense. It starts up front with returning starters Tony Leakahe and Ethan Reynolds, who have a better understanding of the offense. J.D. Furuta, Ryan Brady and Adam Pace will be the primary ball carriers. Pace led the team with 466 yards last year, but Furuta is X-factor. Ankle problems have plagued the senior the last two seasons, but if he can stay healthy he'll be a great asset to the running game. Andrew Spendlove is moving from tight end to wing back, a move that's primarily being made for his blocking ability.
Defense
(7 returning starters)
With just about every major contributor from last year's defense returning, coach Brady actually believes the Buffaloes could be pretty good defensively. It starts on the defensive line where Leakahe, Reynolds, Lawson Ross, Daniel Aragon, Maka Kioa, Zach Langi and Nathan Johnson will be counted on to clog up the middle. Spendove is the heart of the team at linebacker, whereas Pace, Furuta and Ryan Brady will shore things up in the secondary.
Coaches preseason 3AA North straw poll: Sixth
Deseret News 3AA North prediction: Sixth
Bottom line: In the new 3AA classification, six of the seven teams in the two regions make the playoffs, which means one region victory might be good enough for Tooele to make the playoffs for the first time since 2006. Realistically though, if Tooele makes the strides both offensively and defensively that coach Brady is expecting, it is certainly capable of winning a handful of region games. Beyond that, the Buffaloes will still be a young team with only four or five seniors contributing, which means they're probably a year away from competing with the upper echelon teams in the region.
Felt's Facts for Tooele High School
All-time record: 375-444-20 (97 years)
Region championships: 19 (1925, 1927, 1928, 1929, 1930, 1931, 1932, 1933, 1937, 1943, 1950, 1952, 1953, 1957, 1962, 1985, 1988 co, 2001, 2002)
Playoff appearances: 33
All-time playoff record: 31-28
State championships: 5 (1928, 1929, 1933, 1937, 2002)
State championship record: 4-3
Most played rivalry: 67 meetings with Cyprus going back to 1926, with Tooele leading 35-29-3. Meet in 2013 on Aug. 23.
Felt's Factoid(s): Tooele is tied with two other teams for the most shutouts in one season with 10 (1929). ... Buffaloes Bill Lamb and Doug Wolters each returned two punts for touchdowns — four total TDs — against Jordan in a 1962 game. The following week, Lamb returned two more punts for scores, this time against Bingham.
Tooele coaching history
2011-current — Kyle Brady (1-19)
2008-2010 — Ray Groth (7-22)
2005-2007 — Sam Elliott (16-16)
2004 — Doug Harding (3-8)
2000-2003 — Tyler Anderson (28-17)
1993-1999 — Rick Harrison (17-51)
1988-1992 — Lee Leslie (25-26)
1987 — Unknown (2-7)
1983-1986 — Larry Harison (16-20)
1981-1982 — DeLayne Richart (2-16)
1977-1980 — Sonny Sudbury (7-28)
1972-1976 — Dick Raben (13-30)
1968-1971 — Dave Bray (15-23-1)
1967 — Newell Sorensen (6-3)
1954 -1966 — Dean Stringham (58-53-3)
1950-1953 — Harold "Butch" Gutke (26-8-2)
1949 — Johnny Putnik (7-2)
1946-1948 — Bob Orr (7-12-2)
1942-1945 — Unknown (9-18-3)
1941 — Bill Cowley (2-8)
1940 — Unknown (2-6)
1937-1939 — Dan Gillespie (16-11-2)
1932-1936 — Unknown (28-9-3)
1928-1931 — Sterling Harris (30-5)
1919-1927 — Unknown (25-20-3)
1918 — Mr. Andrew
1917 — J. W. West (4-1-1)
1915-1916 — Unknown (3-5)
Deseret News Mr. Football recipients
2002 — Kyle Brady, DB
Deseret News First Team all-staters the past 10 years
None
To view second team and honorable mention all-staters through the years, check out the Deseret News All-State Archives.
Follow Deseret News prep editor James Editor on Twitter @DNewsPreps