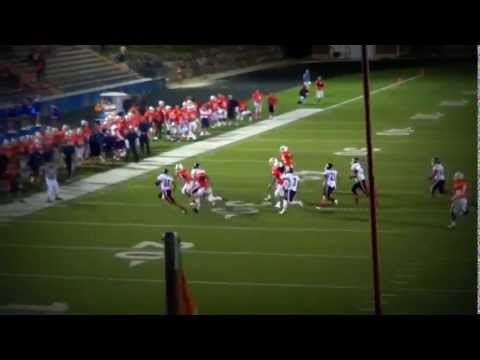 View 4 Items

He's raw talent right now; he doesn't have a lot of years of football behind him, so his talent lends itself to a high ceiling. His speed is something that you just don't find very often.

—Timpview coach Cary Whittingham, on Pita Taumoepenu
SALT LAKE CITY — In his first complete season of organized football former Timpview defensive end Pita Taumoepenu sketched his name into the Utah record books.
In 14 games, he recorded 68 tackles and 25 sacks — the third highest single-season total in state history. On Sunday he pledged his commitment to the University of Utah.
"He's raw talent right now; he doesn't have a lot of years of football behind him, so his talent lends itself to a high ceiling," Timpview coach Cary Whittingham said. "His speed is something that you just don't find very often."
Due to eligibility issues after relocating to the United States from Tonga, Taumoepenu will not be able to participate until after the 2013 season.
"He showed up (during his junior year)...in September. He was really trying to figure his way from square one," Whittingham explained. "It was pretty apparent right a way that we had something pretty special on our hands. By his senior year he started to figure it out and more and more as the season went on. He continued to progress and I expect that will continue on at Utah."
During Timpview's championship run in 2012, Taumoepenu typically attacked from his defensive end position upright. At 6-foot-2, 220-pounds, he's reportedly been clocked at 4.41 in the 40-yard dash.
"His size lends itself to a linebacker, but his speed off the edge would make him a very good pass rusher," Whittingham said.
Taumoepenu originally committed to BYU as part of the Class of 2013. However, per NCAA regulations programs are allotted to sign 25 players to scholarships per year, and had already surpassed that total. As a result, Taumoepenu was expected to serve a church mission.
"Personally he's got things that he hasn't shared with or anybody else, but he did mention to me that he was extremely interest in Utah," Whittingham said when asked what ultimately made him choose Utah. "I believe it has to do with Pac-12, some of it has to do with being in Utah's environment, and past that I don't exactly know. I try and support the kids as long as they're making good decisions.
"When he initially didn't know what he was doing, and had some different plans, I was supportive of that," Whittingham continued, "but when he mentioned things weren't working out that way I was able to see what I could work out with him going towards Utah since he expressed interest. Apparently it's worked out good for both he and them."
Email: tphibbs@deseretnews.com
Twitter: @TPhibbsDNews