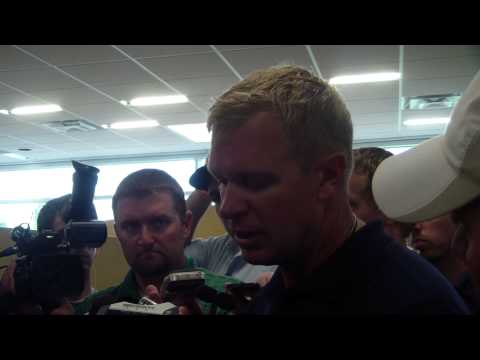 View 23 Items

They did due diligence in conditioning and were at a much better starting point, conditioning-wise, and much more familiar with the schemes. They kind of knew where to go.

—Robert Anae
PROVO — On Friday — the eve of the opening of BYU's fall camp — offensive coordinator Robert Anae posed a simple but profound question in a team meeting.
That question: "Do you trust me?"
It didn't take long for his players to respond.
"We all immediately said, 'Yes,'" said sophomore quarterback Taysom Hill, "because of that trust."
Yes, the Cougars are banking on Anae, who was re-hired in January, to resurrect an offense that was punchless for much of last season.
As BYU held its first practice of the 2013 season Saturday on a hot, sunny afternoon, it was clear that Anae's go-fast, go-hard offense is a work in progress. But the Cougars seemed to be much further along than they were last spring.
"I can tell the guys had done really good work over the summer. That was obvious," Anae said. "They did due diligence in conditioning and were at a much better starting point, conditioning-wise, and much more familiar with the schemes. They kind of knew where to go."
The goal for the first week of fall camp? "Right now," Anae said, "the task at hand is learning to how play fast and play hard."
Coach Bronco Mendenhall, entering his ninth season at the helm, liked what he saw Saturday — for the most part.
"It was a long, hard practice," Mendenhall said. "I was excited and pleased with the willingness of our team. But they fought through a lot of rust and they certainly weren't used to the pace, even though they were asked to remember through the summer what it was going to be like. 'Rusty' is how I would describe today. They were willing, but rusty."
Mendenhall also liked the depth on his team, explaining that the defensive team room prior to practice was full of players and that he's happy with the two-deep on his depth chart. An influx of numerous newcomers, including eight offensive linemen, bolstered his spirits.
"It's nice to have more bodies and more depth than we had in the spring," he said. "I was impressed that they could sustain the pace. Their conditioning looked strong."
One position that needs plenty of shoring up is the offensive line. How did the newcomers on the O-line do Saturday with the fast-paced offense?
"They're all in shock," Anae said.
Linebacker Kyle Van Noy, who was held out of Saturday's practice as a precautionary measure, said the offensive players are doing a good job of picking up the new offense.
"They're doing really well. The offense is really complex. It looks like chaos because of the fast pace," Van Noy said. "But it's all about how well you're conditioned, and to keep that tempo up and mental strength during times when you're tired. Our guys ran the offense really well for the first day. It's only going to get faster, because it's only the first day. That's something to keep in mind. It's a good thing for us and this university to have this offense."
Hill and the offense sputtered at times during the team sessions, but they mounted an impressive drive toward the end of practice. Hill completed a long pass to wide receiver Skyler Ridley, then hit wide receiver JD Falslev for a completion near the goal line.
Is the offense ready to run this high-tempo scheme?
"As a whole, we're ready," Hill said. "That was a really, really tough practice. The guys responded well. I was impressed to see them go out and battle."
As part of instilling a new "culture," both offensive and defensive players participated in pursuit drills. Some struggled to keep up the exhausting pace.
"I'm tired, like you want to pass out," running back Jamaal Williams said. "My lips were white. You know when your lips get white you are tired. You need water. Not water. Wah-ter."
So the Cougars will be drinking a lot of water over the next few weeks as they prepare for the 2013 season opener at Virginia on Aug. 31.
And they're putting a lot of trust in Anae's new, fast-paced offense.