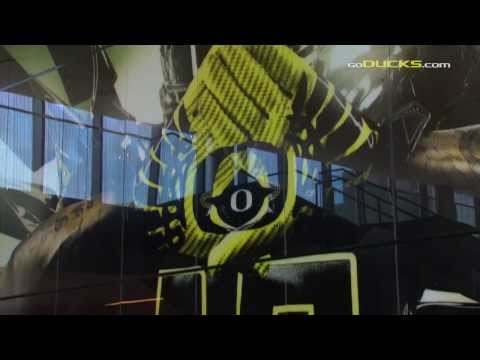 View 2 Items

When the person who builds it just wants the best, what are you supposed to tell them?

—Oregon Senior Associate Athletic Director for Football Jeff Hawkins
According to Forbes, the University of Oregon is the 217th-best academic university in the nation and the ninth-best in the Pac-12, coming in ahead only of Arizona State, Oregon State and Washington State.
But when it comes to football, Oregon's facilities stand second to none.
It's no secret that the University of Oregon's athletics programs have a few very wealthy boosters, namely Nike co-founder and chairman as well as Oregon alum Phil Knight.
The money flowing from Knight's pockets as well as those of other boosters not only has given the University of Oregon the most dynamic football uniforms in the nation, but has allowed it to completely overhaul its training and performance facilities, culminating in the new Hatfield-Dowlin Complex, the new football performance center for Oregon football.
The building is, in a word, stunning.
How do you spell Oregon? O-p-u-l-e-n-t. How do you spell Ducks? E-x-t-r-a-v-a-g-a-n-t.
Oregon's facilities probably rival those of most professional franchises. It certainly is more modern and definitely more expensive than any facility in the state of Utah — the Jazz included — save perhaps the University of Utah's new football facility, to which media members have not been invited as of yet.
The only facility to which Oregon has thus far been compared is the University of Alabama. Earlier this month, photos of Alabama's locker rooms made their rounds on the Internet.
Bama locker room. Water falls! lol pic.twitter.com/URcRd8pMxI— Chris H (@BamaChilld28) July 10, 2013
Despite Alabama's flair for the expensive, Oregon still tops it.
Pics can't do justice to how nice #Ducks facilities are but this "waterfall" in rehab area's a start. pic.twitter.com/Oc1aeSGAmX— Bruce Feldman (@BFeldmanCBS) June 28, 2013
The new building is the result of unabashed ambition to build the finest football facility in the world.
"When the person who builds it just wants the best, what are you supposed to tell them?" Senior Associate Athletic Director for Football Jeff Hawkins told USA Today.
According to USA Today, which got a private tour of the facility Wednesday, among the accommodations in Oregon's new complex are:
A 25,000-square-foot weight room fortified with Brazilian Ipe wood floors
A 40-yard electronic track, one of the few in the world
Televisions embedded in the mirrors of the coaches' locker rooms
German-built, secure keypad-powered, individually ventilated lockers to eliminate odors for both coaches and players, complete with wireless charging pads for electronic devices
Corian surfaces to eliminate potentially infectious bacteria in the locker rooms
A barber shop where players can give each other haircuts (an Oregon football tradition), featuring full-length mirrors, professional barber tools, lounge chairs from Milan, two curated wall displays of scissors, combs and razors and a barber pole
Numerous lounges, including one for media, featuring Italian furnishings and prime walnut wood floors, wallpaper made from Nike football leather and chairs upholstered with the same leather found in a Ferrari
Cafeteria modeled after the corporate dining settings of Google, Oracle, Nike and Genetech, complete with neon signage that reads, "Eat your enemies and the other food groups"
Cantilevered display of more than 60 individual 55-inch TV screens in the lobby that can be assembled into one massive display
A complete collection of Oregon's championship rings bathed in green and yellow light in a small room with black walls and continuous 3D sound recorded from live games at Autzen Stadium
Two foosball tables made in Barcelona, Spain, complete with hand-painted players resembling players from Oregon and the rest of the Pac-12.
An art installation featuring metal ducks for every player that has been drafted to the NFL. Each duck is engraved with the initials of a player and is color-coded based on the round in which he was drafted
Hand-woven rugs from Nepal
B&B Italian sofas lined in football leather
Magnetic, writable, black-backed glass walls embedded with televisions in each of the assistant's offices
Hydraulic piston-powered walnut desks for each assistant coach, suitable for work while standing or sitting
A private staircase from the head coach's private office to his parking space in the garage four stories beneath
A "war room" featuring more black-backed, magnetic, writable glass with embedded televisions and touchscreens — the room was built more than once
Wall-size, hand-laid mosaics of Ann Sacks tile made to portray Oregon's bowl game rings … in the bathrooms.
The Ducks have found themselves embroiled in recruiting violations and NCAA discipline this year. The University of Oregon led out in an attempt to reign in the football team. According to the Oregonian, the university self-imposed a two-year probation on the football program in April, also reducing availability of scholarships.
The NCAA, for its turn, imposed relatively mild sanctions. Mild, that is, in comparison with sanctions other programs have endured. Also according to the Oregonian, Oregon loses one scholarship per year over the next two years, serve three years probation and face restrictions in phone calls and official visits while recruiting during their probation.
According to Forbes, former Ducks head coach Chip Kelly, the coach at the time in which Oregon's major recruiting violations were committed, will likely get off without punishment. He is now safe in another job with the NFL's Philadelphia Eagles.
Lest we forget, let us all remember that Oregon is the nation's 217th-best university. Who knows how much better that ranking could be if the university and its unbelievably wealthy boosters focused less on football and more on education.
Landon Hemsley is the sports web producer for DeseretNews.com. Email: [email protected]. Twitter.com/EarlOfHemsley