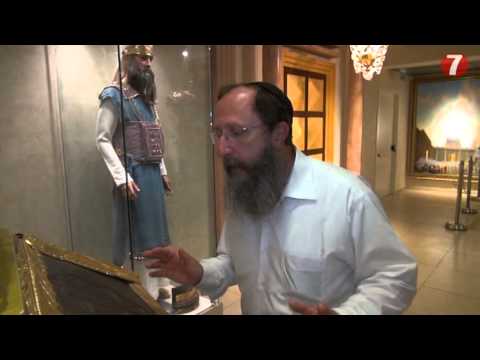 View 11 Items


All of our outreach here at the Temple Institute is about deepening our feeling of connection — not our feeling of loss, not our feeling of mourning — but our joy with the possibility of our generation being the generation that is leading to the rebuilding of the temple.

—Rabbi Chaim Richman, head of the Temple Institute International department
In an effort to help people understand the significance of the temple's past, as well to inspire hope for its reconstruction, the Jerusalem-based Temple Institute released a seven-minute video clip that offers a sneak peak into the new Temple Visitors' Center in Jerusalem.
The non-profit Jewish organization was founded in 1987 and is located in the Jewish quarter of Jerusalem's Old City. It is dedicated to rebuilding the Holy Temple of God on Mount Moriah.
"All of our outreach here at the Temple Institute is about deepening our feeling of connection — not our feeling of loss, not our feeling of mourning — but our joy with the possibility of our generation being the generation that is leading to the rebuilding of the temple," said Rabbi Chaim Richman, head of the Temple Institute International department in an interview with Israel National News.
The Temple Institute website says its short-term goal is to "rekindle the flame" of the temple in people's hearts, and its long-term goal is to rebuild the temple in "our time."
"We consider the rebuilding of the holy temple to be one of the positive commandments. Unfortunately because of the whole long diaspora experience, a lot of ideas crept into our subconsciousness, and even our consciousness, and there are those that say that the temple is going to come down from heaven, there are those that say that only Mashiach (the Messiah) can build the temple, there are those that say, 'well, the whole idea is just not relevant at all,'" Richman said.
"Our position is really just that our lives are like, on hold. The Jewish people are just a skeleton of what they could be. The whole world is really, totally muted and just completely drained of its vibrancy because we don't have the holy temple. And so what we're really trying to emphasize during these days is to rekindle the anticipation and the beauty and the longing for having that closer relationship ... when the divine presence returns to the world," he added.
The Temple Institute Visitors' Center includes garments of the high priest and oil paintings depicting Jewish temple worship, as well as a scaled-down stone altar that is "completely ready for use on the Temple Mount," according to the website.
The Center in Jerusalem is open Sunday through Friday, and entrance is available only to groups with previously arranged appointments.
Abby Stevens is a writer for the DeseretNews.com Faith and Family sections. She is a recent graduate of Brigham Young University–Idaho. Contact Abby at [email protected].