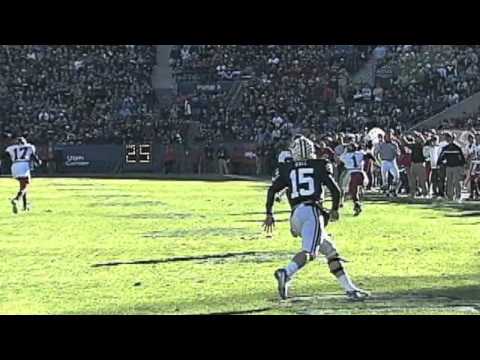 View 3 Items

Editor's note: This is the third in a series of book excerpts from "Tales from the BYU Cougars Sideline: A Collection of the Greatest Cougars Stories Ever Told," written by longtime Deseret News sports columnist Brad Rock and published with permission of Sports Publishing, an imprint of Skyhorse Publishing, Inc.
"Fourth-and-18," Max Hall was saying in February of 2013, more than five years after the play. "One of my favorite plays of all time."
For him and a million others.
LaVell Edwards Stadium had fallen silent on Nov. 24, 2007. The Cougars were on their own 12-yard line, trailing 10-9 in the Utah-BYU game with 1:13 to go.
A sack on first down had been followed by two incomplete pass attempts to Dennis Pitta. One try remained.
Hall told all his receivers to "go 90," which meant straight downfield, full speed —except Collie.
"For some reason I told Austin, 'Give me a stutter-go,'" said Hall.
A 12-yard route, a fake curl, then run for the border.
Hall dropped back, stepped inside the rush, rolled right and let it fly.
"When Austin stuttered, the cornerback thought I was going to run, so he came up two steps and let Austin get behind him," Hall said. "Unbelievable."
It wasn't exactly a rocket launch. Hall had been playing with ligament damage to his throwing shoulder.
"Austin was wide open," Hall said. "I cocked the ball back and threw it as high and as far as I possibly could. I think it only went 15 or 20 yards."
It turned into a 49-yard play. The Cougars still had 39 yards to the end zone, but the damage had been done. A couple of penalties on Utah plus a bruising run by Harvey Unga and the Cougars had a touchdown, leading to a 17-10 win.
"My heart was beating so hard — boom! boom! boom! — and the place just erupted. It was the loudest I ever heard it. I was vibrating," Hall continued.
After the game Collie remarked to reporters, "I wouldn't say it was lucky. We executed the play wel l... obviously, if you do what's right on and off the field, I think the Lord steps in and plays a part in it. Magic happens."
That quote was widely criticized by Utah fans, many of which felt the implication was that Heaven favors BYU. Hall said Collie was just pointing out that if players prepare well, live wisely and work hard, good things result.
That should go without saying, Hall observed in 2013. Then he paused as the memory of that day flooded back.
"So we won," he said with a slight laugh, pausing for a beat. "Fourth-and-18."
email: rock@desnews.com