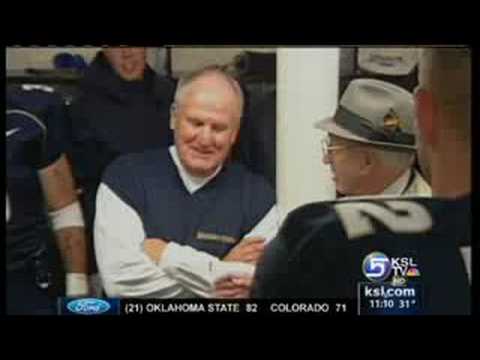 View 4 Items

I thought it was in <i>Idaho </i>Falls. I always get Idaho Falls and Twin Falls all screwed up.

—LaVell Edwards, on missing a speaking engagement with a fireside group because he went to the wrong town
Editor's note: This is the second in a series of book excerpts from "Tales from the BYU Cougars Sideline: A Collection of the Greatest Cougars Stories Ever Told," written by longtime Deseret News sports columnist Brad Rock and published with permission of Sports Publishing, an imprint of Skyhorse Publishing, Inc.
LaVell Edwards' forgetfulness was one of his most endearing qualities — even to those he forgot.
While still the head coach at BYU, Edwards was a popular public speaker. Many of his engagements were LDS Church "fireside" programs designed to inspire youth.
Too bad they didn't inspire him to get out a road map.
In the late 1990s, he was scheduled to speak to a fireside group in Twin Falls, Idaho. BYU associate athletic director Mike King, whose brother was an LDS Church leader in that area, had arranged the engagement.
King's brother called on a Monday morning and said: "Where was LaVell last week? He never made it up here."
King said he didn't know. LaVell was supposed to have been there, on schedule.
Later that day when he saw Edwards, he asked what happened.
"I thought it was in Idaho Falls," said Edwards. "I always get Idaho Falls and Twin Falls all screwed up."
Edwards went on to explain that he had driven to Idaho Falls, pulled off the freeway, and looked everywhere he could imagine for the correct address. Finally, he was forced to turn around and drive home.
To his credit, Edwards rescheduled the appearance. And that time he drove 163 miles in the right direction.