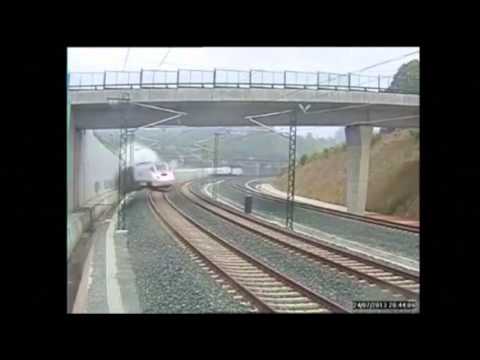 View 13 Items
Associated Press

SANTIAGO DE COMPOSTELA, SPAIN — An 18-year-old Mormon missionary from Utah is recovering from serious injuries he suffered in the train crash in Spain that killed 80 people and injured more than 100 on Thursday.
According to Ray Ward of Bountiful, his son, Elder Stephen Ward, was released from a local hospital Thursday after being treated for injuries suffered during the accident that the younger Ward described as "truly horrible."
"He has a neck fracture, but it is stable enough that they can discharge him," the missionary's father said. "He'll have to wear a neck collar while it heals, but when you see what happened to so many other people who were sitting around him, we feel like this is a great blessing."
Elder Ward, a 2012 graduate of Bountiful High School who had completed a year of college at Brigham Young University prior to beginning his full-time mission for The Church of Jesus Christ of Latter-day Saints, was traveling alone. He was on his way to El Ferrol on the northern coast of Spain for his first proselyting assignment in the church's Spain Madrid Mission. His mission president, Scott Jackson, said Elder Ward had just completed six weeks of training at the church's Missionary Training Center in Madrid and was excited about the seven-hour train ride to his first assignment.
"I was writing in my journal," Elder Ward told the NBC affiliate in Miami. "All of a sudden the train started leaning sideways. You could tell that both sets of wheels were not on the track. It felt like a roller coaster."
Which was not a good thing, as far as the young missionary is concerned.
"When it comes to high velocity, I'm the world's biggest coward," he said, chuckling. "I do horribly with roller coasters. I do horrible with anything at high speed. (But) I was completely calm for the whole thing, which really surprises me."
While the train was leaning, he said "it never crossed my mind that we would be crashing."
"I just thought, 'Wow, this is different.'"
Elder Ward said the last thing he remembered was watching a man sitting opposite him leap to catch a backpack that was hurtling through the air toward a woman as the train leaned over further.
"I remember thinking, 'Many props to him,'" Elder Ward said. "I was kind of focused on him so I wasn't really paying attention to the direction of gravity."
The devastating impact of gravity on the train knocked the young missionary unconscious. When he regain consciousness, he said things were "fuzzy" and unclear to him, probably the result of a concussion.
"It was like a scene from hell," Elder Ward told London's Daily Telegraph. "I thought I was dreaming. There was blood everywhere, my own and other people's. And bodies were being carried out. They were pulling people from the wreckage. Some were already dead and others looked like they were about to die. We were like the walking dead."
Although Elder Ward had completed six weeks off language training at the Madrid MTC, he said his rudimentary knowledge of Spanish added to his confusion. Eventually he was able to communicate via telephone with Jackson and let him know that he was injured, but alive.
"I actually came off very lucky," Elder Ward said. "I was the very last person they took away in an ambulance, just because I was doing well. I might have a small crack in one of my vertebrae in my spine, but nothing that won't heal by itself if I wear a neck brace for a while.
"I've got some pretty good bruises and some pretty good lacerations," he continued. "I've got staples in four places in my head. But you know, it's nothing permanent, for which I'm grateful."
That sentiment is echoed by Elder Ward's father, who said during a telephone interview Thursday morning that he and his wife, Beverly, are feeling an extraordinary mix of emotions in the wake of the news that their son has been severely injured on his mission thousands of miles from home.
"Of course, the news that our son was in an accident was horrible," Ward said. "But he survived when so many others didn't. And it looks like he's going to be OK. So we're feeling horrified and grateful, all at once."
The Wards say they consider it a "tender mercy" from God that their son's mission president is an orthopedic surgeon by profession, and has been able to help Elder Ward through this in unique ways by virtue of his background and experience. For his part, Jackson said Elder Ward is "a remarkable young man, very happy by nature."
"He was cracking jokes last night," Jackson said. "He had a big smile on his face. He said he feels lucky and thankful to be alive."
A few minutes after he learned from the mission president that his son had been released from the hospital, Ward said his son was being taken back to the mission home in Madrid.
"He doesn't have any clothes or luggage or anything at this point," Ward said. "That's just a little thing, but we have to figure all of that out now."
Late Thursday afternoon LDS Church spokesman Dale Jones said "our thoughts and prayers are with all those affected by the train accident in Spain."
Email: [email protected]