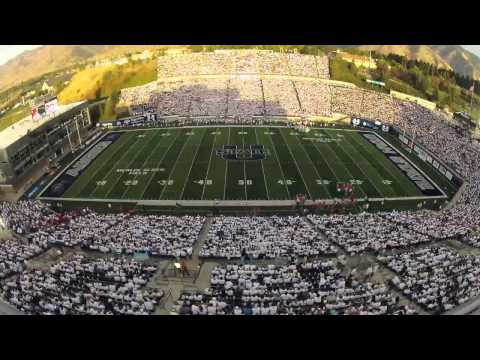 View 11 Items

We're ahead of our normal sales coming into July more than any other year. Because we're performing well and we have a better schedule going into the Mountain West, it's kind of a perfect storm. We made a concerted commitment back in March to really focus on better customer service, more outbound outreach connection. We've definitely focused on it.

—Jana Doggett, USU executive associate athletics director
Editor's note: This is part three in a four-part series on college football ticket sales and marketing in Utah. Read part one and part two.
Utah State is coming off its best football season ever. Although USU lost popular head coach Gary Andersen, optimism about this year's team is running high.
Last season, the home of Aggie football filled up for Utah and UNLV, but later-season games against less-compelling competition didn't deliver more than 75 percent capacity crowds.
Outside of Weber State in September, USU won't play in front of the home crowd until Oct. 4, when BYU comes to town. Boise State visits the following week. Without a doubt, those games should bring a full house.
But will Hawaii, Colorado State and Wyoming to close out the season bring more interest than last year's second-half WAC slate? Is the optimism and the new schedule enough to bring fans to fill Romney Stadium in November?
If season ticket sales so far are any indication, it will.
Rising season ticket sales
With a capacity of just more than 25,000 seats, Romney Stadium isn't the biggest venue in college football, but it is a solid one.
So far this season, the school has already sold 4,500 season ticket packages, well above average. According to Jana Doggett, executive associate athletics director, sales are trending up in both new sales and renewals.
"We're ahead of our normal sales coming into July more than any other year. Because we're performing well and we have a better schedule going into the Mountain West, it's kind of a perfect storm."
Utah State has a large portion of its seating designated as general admission, which means there isn't a lot of urgency for fans in those sections to make their purchase, which in turn means a lot of season ticket sales are made after fall camp opens. Notably, the Aggies didn't increase ticket prices this year.
Come the last week of August, Doggett expects Aggies will have puchased far more tickets than last season.
Bringing football ticket revenue up to speed
At Utah State, basketball ticket sales bring in more revenue than football.
In 2011 and 2012, Aggie basketball delivered more than $700,000 in ticket revenue, while football in the same years didn't reach the half-million mark.
It's something the school is actively trying to change.
"We're focused on it. I can tell you without a doubt that there's focus within the ticket office and in the marketing department. We know we need more people in the football stadium as we move into the Mountain West to help our teams and help our revenue," Doggett said.
"So we made a concerted commitment back in March to really focus on better customer service, more outbound outreach connection. We've definitely focused on it."
The school isn't just relying on last season's success or the improved schedule to bring in those incremental ticket sales. The Aggies have focused their marketing efforts around it, including outbound calling, and are determined to see football sales top basketball.
Improvement aside, compare the sub-million revenues from Utah State football season ticket sales with the $14 million-plus generated by the University of Utah, and the chasm between big and small Division I football programs is clearly visible.
Bringing basketball back up
8
comments on this story
In 2011, Utah State sold nearly 4,000 basketball season ticket packages, a number that took a noticeable dip last season.
Doggett is optimistic the Aggie basketball team's 2012-13 lull was a short one and expects tickets to reflect the success expected of the 2013-14 team.
"We feel like we have a great core of guys back," she said. "We have a fantastic non-conference schedule, and obviously Mountain West Conference basketball is phenomenal. Our expectation is to far exceed 2012 numbers and push toward the 2011 number"
Ryan Teeples, - twitter.com/SportsGuyUtah - is a marketing and technology expert, full-time sports fan and owner of Ryan Teeples Consulting Inc. RyanTeeples.com