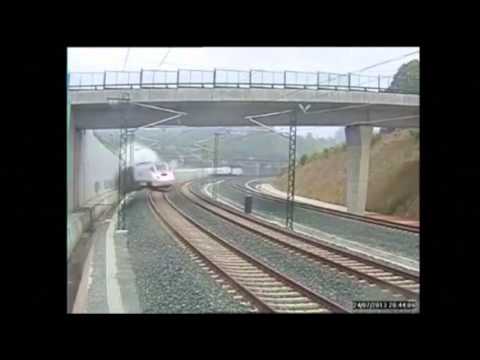 View 12 Items
Associated Press

I have messed my neck up real bad and have stitches in four places on my head and face, but by the sounds of it, I am just real lucky to be here.

—Stephen Ward
SANTIAGO DE COMPOSTELA, Spain — Stephen Ward, 18, says he is lucky to be alive after surviving the Spanish train accident on Wednesday that took 80 lives and injured 95.
Although he remains in the hospital, Ward is grateful to be alive.
"I have messed my neck up real bad and have stitches in four places on my head and face, but by the sounds of it, I am just real lucky to be here," Ward told The Telegraph.
"Our thoughts and prayers are with all those affected by the train accident in Spain. Among those injured was Elder Stephen Madison Ward, age 18, from Bountiful, UT, serving in the Spain Madrid mission," The Church of Jesus Christ of Latter-day Saints said in a statement. "Elder Ward suffered minor injuries as well as a neck injury. A full recovery is anticipated. Elder Ward completed six weeks of training in the Madrid Missionary Training Center this week and was en route to his first assignment."
Ward's mission president, Scott Jackson, said that Ward sustained a fracture of his sixth vertebrae.
"He's in observation here at the hospital. He sustained lacerations to the scalp and a neck injury," Jackson, said. "He had a concussion, but the main problem right now is his neck injury."
Ward recalled a few short memories from before the crash, explaining that he can't remember much more of what happened.
"I remember the train going very fast round a sharp bend and then bags flying off the overhead baggage shelf," Ward told the Telegraph. "A woman across from me was flung from her seat and then I think the train derailed. At that point I passed out, and when I came to I was being dragged from the carriage."
The train was reportedly traveling well beyond the speed limit for the track, according to eyewitnesses and video footage. Ward described the horrific scene he woke up to immediately after the accident.
"It was like a scene from hell," Ward said. "I thought I was dreaming. There was blood everywhere, my own and other people's. And bodies were being carried out. They were pulling people from the wreckage. Some were already dead and others looked like they were about to die. We were like the walking dead."
Email: spetersen@deseretnews.com