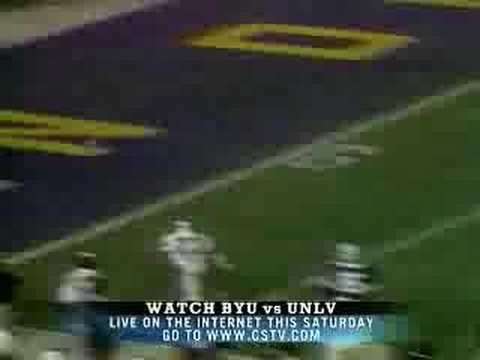 View 3 Items

Everyone was celebrating, with the exception of two people. That was LaVell and McMahon, because they both knew darn well we had to make the PAT to win.

—Kurt Gunther, former BYU kicker
Editor's note: This is the first in a series of book excerpts from "Tales from the BYU Cougars Sideline: A Collection of the Greatest Cougars Stories Ever Told," written by longtime Deseret News sports columnist Brad Rock and published with permission of Sports Publishing, an imprint of Skyhorse Publishing, Inc.
Memory will forever credit Jim McMahon with winning the 1980 Holiday Bowl — affectionately known since as the "Miracle Bowl" — thanks to his last-second touchdown pass against Southern Methodist. Yet the game was actually won, 46-45, on an extra-point kick by Kurt Gunther. Not many recall that. Even fewer know it was a kick Gunther was lucky to make.
Gunther wasn't even on scholarship when he made the all-important kick. As a sophomore, he walked on and earned a spot as a non-scholarship player. But the No. 1 kicker, Dave Taylor, was declared ineligible at the last minute.
"They pulled me out of my Stats 101 class and said, 'Get your gear. We need you to kick for us,'" said Gunther.
He was so nervous he forgot his helmet on his first road trip. BYU was playing at New Mexico in the season opener, and he didn't realize his mistake until he got to Albuquerque.
One of the BYU assistant coaches had a friend who owned a private jet. The coach called and asked him to drop by the football office, pick up Gunther's helmet, and fly it to the Duke City.
"I was so excited just to be the starting kicker," said Gunther. He was living at home in Provo and paying his own bills at the time. That, of course, changed the moment he made the kick that beat SMU. Coach LaVell Edwards was so grateful, he put Gunther on scholarship the next two years, plus a third year after Gunther had used up his eligibility but was still working on his accounting degree.

Although Gunther was a reliable kicker for the Cougars through three seasons, the one against SMU was the kick of his life. Not only did it provide BYU with its first bowl win, but it allayed fears that the Cougars couldn't win on a kick. The previous year, BYU was in position to win against Indiana in the closing moments, but Brent Johnson — a normally fine kicker, as well — pulled his head up and missed a 27-yard field goal that would have won the game.
After McMahon completed the "Hail Mary" pass that tied the 1980 bowl game, the stadium was in an uproar. The play ranks with one of the most amazing in college football history.
"Everyone was celebrating, with the exception of two people," says Gunther. "That was LaVell and McMahon, because they both knew darn well we had to make the PAT to win."
Bill Schoepflin, who moments earlier had blocked an SMU kick to set up the game-tying pass, was Gunther's holder. He called out the count: "Blue 13." That confirmed Gunther would kick the PAT and that it wouldn't be a fake kick. But when Schoepflin raised his hand to take the snap, the ball didn't come.
Earlier in the game, Corey Pace had snapped one over punter Clay Brown's head. He was nervous and tentative.
"I talked to him later and I said, 'Corey, we practiced that play a million times. Why didn't you snap it in time?'" said Gunther. "He said, 'Kurt, I was so scared that when I bent over and grabbed the ball, my knees were almost hitting each other.'"
So when Schoepflin raised his hand, Gunther began leaning forward to go into his kicking motion.
Still no snap.
"I lean and I lean and I lean," recalled Gunther. "The ball doesn't come. So I have to take a stutter-step. I throw my left foot in front of me to keep from falling on my face. Then, finally, the ball comes."
But the scare wasn't over.
Gunther was using a 1-inch tee for field goals. When Schoepflin fielded the snap, he accidentally placed the ball on the corner of the tee so that it was resting half on the grass.
Not a good situation in no-pressure conditions, but a horrible situation when it's the game winner.
Reprinted from Tales from the BYU Cougars Sideline: A Collection of the Greatest Cougars Stories Ever Told by permission of Sports Publishing, an imprint of Skyhorse Publishing, Inc.