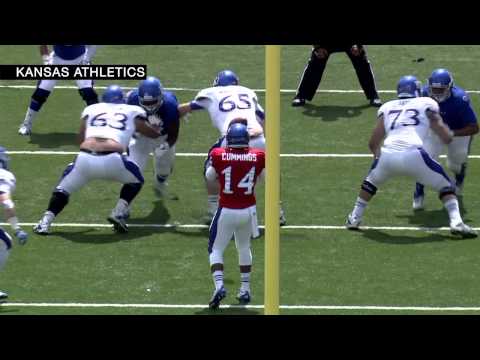 View 6 Items

The moment I got there at Kansas I prepared like I was going to be the starter, I practiced like I was going to be the starter in spring ball and I've always been that way. I just put my best foot forward and have really worked hard and have done it on a consistent basis every day and I think that has gone a long ways with my teammates.

—Jake Heaps, Kansas Jayhawks Quarterback
By the time the Kansas Jayhawks football team opens its 2013 season, the countdown will have hit 643 days.
Six hundred and forty-three days since former BYU quarterback Jake Heaps has played in a college football game, dating back to the Cougars' win over Hawaii on Dec. 3, 2011. That day, Heaps threw just one pass in BYU's 41-20 victory.
It probably doesn't help that Kansas will start its 2013 season a week later than most, with its season opener on Sept. 7 against North Dakota.
"On my phone, I have a countdown. I can't wait. I'm chomping at the bit to get out there," Heaps, who is expected to start at quarterback for the Jayhawks, told Big 12 Insider's Wendell Barnhouse during the Big 12 Football Media Days in downtown Dallas. "I'm so excited, it's been long overdue. And I can't wait to put on the Kansas Jayhawks uniform and run out there as a Kansas Jayhawk."
This will be the second straight season the Jayhawks start a transfer quarterback. Last year, Dayne Crist went to Kansas after three previous seasons at Notre Dame and he struggled. While playing in 10 games and starting seven, Crist completed just 47.7 percent of his passes and threw for 1,313 yards, four touchdowns and nine interceptions.
The situation this year with Heaps is different, though.
"Dayne was coming in off back-to-back ACLs (knee injuries)," Kansas second-year coach Charlie Weis told media members during a question-and-answer session at the Big 12 Football Media Days. "As a quarterback you can simulate a lot of things but the one thing you are not going to do is in training camp let your starting quarterback get hit a whole bunch of times. So you don't know what's going to happen when the real bullets start flying. We all saw ... he wasn't playing with a lot of confidence. He wasn't playing with that air about him that, 'I'm not worrying about my knees. I'm just going to go ahead and let it go.'
"Jake has no physical issues. Jake just had to sit for a year while he was biding his time for his opportunity to play. So I think that Jake will come in with a lot more confidence than Dayne came in because health issues are not even in the back of his mind — knock on wood."
Sitting out the past year due to transfer rules after spending two years at BYU has been tough for Heaps, one he called "excruciating." But he said it has helped him gain a different perspective "on not only how to play the game but just what I could do to help my team get better in this offseason, and that's been really helpful for our team."
"I never changed my mode as far as how I prepared. The moment I got there at Kansas I prepared like I was going to be the starter, I practiced like I was going to be the starter in spring ball and I've always been that way," Heaps said. "I just put my best foot forward and have really worked hard and have done it on a consistent basis every day and I think that has gone a long ways with my teammates."
Following a 1-11 season in 2012, Kansas was picked to finish last in the Big 12 in this year's preseason media poll.
"If I were you, I'd pick us in the same spot," Weis said.
Combining those struggles to win with the fact Kansas ended the 2012 season ranked 117th in the country in passing offense, averaging 148.7 yards per game, means there will be plenty of uphill struggles for Heaps and the Kansas offense to overcome.
On the positive side, the Jayhawks rushed for 211.67 yards per game last year, good enough for 22nd nationally. They will also benefit from the return of James Sims for his senior season after he rushed for 1,103 yards and nine touchdowns a year ago.
"He knows the offense well; he sat out a year so he got to get the offense down," Sims said of Heaps during Big 12 Media Day. "He's really been on his Ps and Qs about offense and whatnot and just being a leader. That's one thing, on offense we rely on the quarterback as being the leader, and he's stepped up and he's doing a great job of that."
Heaps knows the key to getting the Kansas offense on track is by improving the passing attack.
"I think it's going to be very key for us to be able to be balanced. We have a great running back in James Sims and we have a great running back group, arguably the best running back group in the country," Heaps said. "As a quarterback, that makes you feel comfortable. At the same time, you want to alleviate the pressure off them, you want to be able to get so they're not facing eight man boxes every time. If we can be balanced as an offense, I think we're going to be very tough to stop."
Two other weapons Heaps will have at his disposal this year are halfback Tony Pierson and wide receiver Justin McCay.
Last season, Pierson was second on the team in both rushing and receiving yards (790 rushing, 291 receiving) and he added four touchdowns. Kansas is looking to use him in a more versatile role, like West Virginia did with Tavon Austin in 2012. Last year, Austin had 2,910 all-purpose yards and 17 touchdowns and is now on the St. Louis Rams roster after being the 15th player taken overall in the NFL Draft.
"We're sitting there watching tape on Austin do these amazing things and we're going, man we've got a guy just like that. And why aren't we using him in that capacity," Heaps said of Pierson. "Instead of having to give him the ball and have everyone know where he is getting the ball, now all he has to do is get the ball and make one or two guys miss and he's gone. It's going to put us in a position to have more explosive plays and be a more balanced offense."
McCay is a 6-foot-2, 213-pound transfer from Oklahoma, and will also be playing his first season for the Jayhawks. He could be a go-to player for Kansas in the passing game.
"You have a big, physical receiver like Justin, it's always good as a quarterback because you know you can throw it in his frame and he's going to go up and get it and secure the football," Heaps said. "Justin and I go way back, we played together in the Army All-American game, we completed a couple passes in that game. When we both transferred to Kansas, it was really fun. We were on the scout team together and developed chemistry." Heaps is also looking forward to playing in a conference that has built a reputation for high-octane offenses led by strong-armed quarterbacks. Among the recent Big 12 quarterback products are Baylor's Robert Griffin III, West Virginia's Geno Smith, Oklahoma State's Brandon Weeden, and Oklahoma's Landry Jones and Sam Bradford. This year, Texas' David Ash is the most experienced quarterback in the conference.
"I really came here to Kansas because of coach Weis and the pedigree that he has and the relationship that we've had over the years," Heaps said. "It's been a pleasure working with him on a consistent basis and (quarterbacks coach Ron) Powlus, it's been so much fun. But being in a league that throws the ball around and has these high-octane offenses is really, really fun to be a part of, that is for sure, and I'm looking forward to it."
Email: [email protected]; Twitter: @brandonljudd