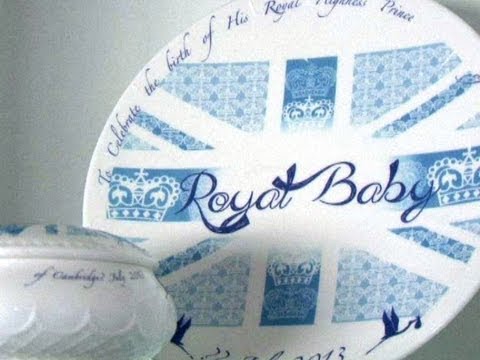 View 10 Items

With the world awaiting the birth of the baby of Prince William and the Duchess of Cambridge any day, memorabilia and appropriately colored gender announcements are popping up from America to New Zealand.
The Canadian side of Niagara Falls plans to illuminate the falls in either pink or blue lights, depending on the baby's gender. The falls will turn pink, if fans of the park's Facebook site are to be believed: 62 percent predict a girl. New Zealand also plans to celebrate the royal birth with colored lights: More than 20 national landmarks will be glowing in pink or blue, according to Today.com.
Today.com also reported that government officials in Finland sent a traditional Finnish maternity package to the expectant parents that includes baby clothing and supplies.
Even companies in the United States have joined in the excitement. A British restaurant in Gainesville, Fla., hosted a tea party/baby shower in honor of the new heir to the throne, according to Gainesville.com. And American cupcake chain Sprinkles is offering "gender reveal cupcakes," which have either pink or blue filling.
2
comments on this story
England has celebratory gifts prepared to hand out on news of the baby's arrival. London's Heathrow Airport will give out T-shirts emblazoned with "Celebrating a Very Special New Arrival" to the first 1,000 passengers who arrive in each terminal, according to the Los Angeles Times. The shirts will be accompanied by Twining's tea and Walkers shortbread biscuits.
The Royal Mint will distribute silver coins with a shield of the Royal Arms to infants born the same day as William and Kate's baby, according to Today.com.
The royal newborn is even already up to speed with technology: Apps have been created for her or him, as well as a Wikipedia page, "Child of the Duke and Duchess of Cambridge," making the infant the first person to have a page on that site before birth.
Abby Stevens is a writer for the DeseretNews.com Faith and Family sections. She is a recent graduate of Brigham Young University–Idaho. Contact Abby at astevens@deseretdigital.com.