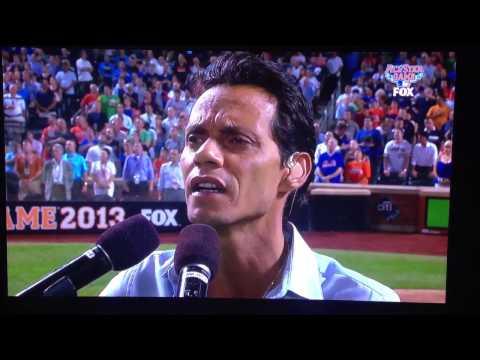 View 3 Items

Last night, Grammy-winning artist Marc Anthony opened the MLB All-Star game with a beautiful rendition of "God Bless America." But for some, the fact that Anthony was singing a patriotic song was far from beautiful it was a disgrace.
Anthony, a New York City native, is of Puerto Rican descent, which caused many people to respond with racist statements (Caution: viewers may, and should, find some of the content of the tweets offensive) as to why "a Mexican was singing the national anthem."
Despite the fact that Puerto Rico has been an administered territory of the United States longer than five states have even been states -- Oklahoma, New Mexico, Arizona, Alaska and Hawaii -- and that players of Latino descent have a very strong showing in MLB, many people seem to be outraged that someone other than a white person is singing the national anthem of a country that has many immigrants and descendants of immigrants.
This isn't the first time a person of Latino descent singing the national anthem has met a backlash of racist comments. Back in June, 11-year-old Sebastien De La Cruz sang the national anthem at an NBA game for the San Antonio Spurs and was also greeted with racist tweets and messages.
"This kid is Mexican, why is he singing the national anthem. #yournotamerican #gohome" from Ben Koeck.
"Miami=cute white girl sings national anthem. San Antonio= gets a little Mexican to sing it ... I thought this was America!!!" from Zac doc.
In 2011, a 16-year-old high school student Shai Warfield-Cross was told by her school officials that she would have to sing the national anthem, which she had previously sung at high school sporting games, in a more "traditional" manner. The reason: Several members of the predominantly white community had complained to the school that the song was "unrecognizable." The black teenager sang the national anthem with a distinct style often associated with black singers.
There have also been equally strong reactions against the racist comments.
@G_Lewis19 @chancellorjones @kriederkid @dusboy Immigrants are and always will be the bloodline of this country. Your ignorance is comical.

— Lourdes Garcia (@RaidersGal84) July 18, 2013
The reactions of the victims of these remarks have also responded with level headed remarks. There is no doubt that they are true-blooded Americans. Immigrants -- from all over the world and from various cultural backgrounds -- built this country, and the sooner the U.S. realizes there is no single mold for a true American, the better off it will be.
Freeman Stevenson is a Snow College grad and is the DeseretNews.com opinion intern. Reach me at fstevenson@deseretdigital or @freemandesnews