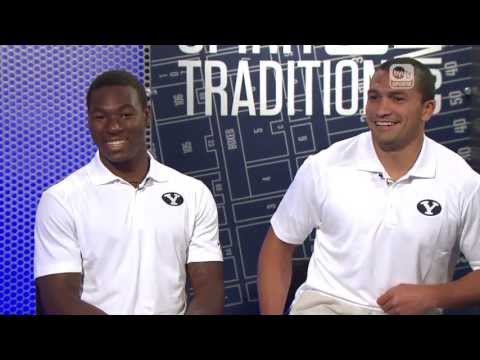 View 4 Items

The watch list for the nation's top running back was announced Thursday morning, and BYU rusher Jamaal Williams was named a candidate for the award.
Williams took over as BYU's featured running back in 2012 after Michael Alisa broke his arm during a game against Hawaii, but he played in every game of 2012. He rewrote freshman record books during 2012 and is now the all-time leader in carries (166), yards (775) and touchdowns (12) for a freshman at BYU.
In addition to his impressive rushing statistics at BYU, Williams also hauled in 27 catches for 315 yards and one touchdown. Seven of those catches came against Notre Dame. For the year, Williams had six games with more than 100 all-purpose yards.
Before Williams arrived at BYU, he was a heralded California prep athlete. He led his team to a California regional football championship and was named the California Interscholastic Federation (CIF) offensive MVP, All-CIF first team, league offensive MVP, and all-league first team; he also lettered in track. He was recruited by Boise State, Arizona State, Utah, Idaho, San Diego State, UCLA, Oregon and New Mexico State.
Williams' nomination makes him the ninth player from BYU to be nominated for a college football award. Overall, BYU players have been nominated for 10 different awards.
Alisa is also one of 17 players from Utah FBS programs to be nominated for a college football award. See them all here.
The Doak Walker award, in its 24th year, highlights the nation's top running back in college football and is named for Southern Methodist University's three-time All-America running back Doak Walker.
The Cougars and the Doak Walker award have a history; BYU rusher Luke Staley won the honor after the 2001 season, in which BYU finished the year 12-2.
Landon Hemsley is the sports web producer for DeseretNews.com. Email: lhemsley@deseretnews.com. Twitter.com/EarlOfHemsley