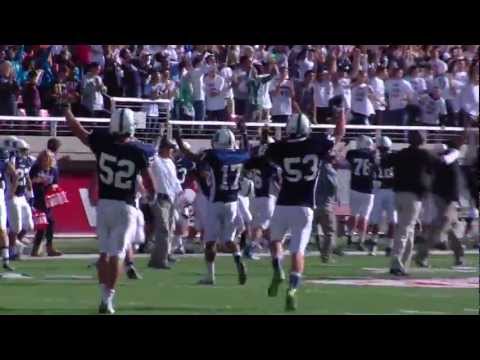 View 11 Items
Buy photos

Bingham's football team has become synonymous with success, something Utah high school football coaches reiterate every season.
Each year the Deseret News asks coaches across the state to submit their preseason high school football rankings, and year in and year out it's Bingham that's shown the most respect.
That's no different in 2013.
For the fourth-straight year and the fifth time in the past seven years, Bingham's football team begins the season ranked No. 1 in the Deseret News preseason rankings. The Miners have advanced to the 5A semifinals six of the past seven years and won the championship in three of those years.
However, Dave Peck's team hasn't won a 5A state championship since 2010, and by Bingham standards that's not good enough.
In Bingham's preseason prospectus submitted to the media, Peck said, "If we don't win a state championship, it's a disappointment at this point. I know that's setting the bar way high, but it is what it is. It's the reality of where our program's at right now."
With oodles of talent on both sides of the ball, Bingham is certainly capable of climbing back to the top of the Utah prep football mountain after taking a backseat to superstar quarterbacks the past two season.
After Chase Hansen guided Lone Peak to the 2011 state championship, Jordan's Austin Kafentzis followed with an even more dominant season to lead the Beetdiggers to the 2012 title.
Kafentzis is just a junior heading into the 2013 season, and he's definitely the X-factor this season.
With the entire offensive line in front of Kafentzis gone to graduation, the 5A coaches around the state narrowly dropped Jordan to fourth in the preseason rankings behind Alta and Syracuse.
You can bet Wisconsin commit Kafentzis will be playing with a chip on his shoulder, a scary thought considering how productive he was a year ago. As a sophomore, Kafentzis racked up 1,689 rushing yards, 2,860 passing yards and 54 combined touchdowns.
Many believe this season will be the true test of Kafentzis' abilities as he'll likely need to throw much more without five freight trains run blocking in front of him.
Kafentzis isn't the only QB with high expectations. In fact, after Bingham, three of the next six teams ranked in the Deseret News top 25 return quarterbacks with experience.
Senior Chipper Lucero is back for No. 2 Alta after throwing for 3,414 yards and 37 touchdowns last season. Syracuse's Kole Tracy will be back under center for No. 3 Syracuse a year after an injury to Brock Anderson forced him to play major minutes in the 5A semifinals and championship.
Baron Gajkowski is another talented returning quarterback in 5A as he led Lone Peak to the semifinals with a combined 3,359 yards of total offense and 32 total TDs. The Knights check in at No. 6 in the preseason rankings this season.
Defending 4A state champion Timpview checks in at No. 5 in the preseason rankings, while East and its college of college-bound stars is ranked seventh.
Preseason rankings are never an exact science, and teams will inevitably move up and down throughout the season. What's exciting for high school football fans, though, is most of the top teams play each other throughout the season in both region games and nonregion games.
Bingham, Jordan and Alta are all lumped together in the new Region 3, and all three of those clashes have the chance to be fantastic. Alta's tough schedule also includes a matchup with Lone Peak in week two.
Timpview and East will each have a chance to prove themselves against the 5A big boys as Timpview faces Alta and Lone Peak in nonregion games, while East takes on Alta and Jordan.
Syracuse's schedule doesn't feature anyone in the top seven, but six of their 10 opponents are ranked in the top 25.
If you're a high school football fan, the Deseret News is your source over the next month to prepare you for the 2013 season, which kicks off Friday, Aug. 23.
Beginning Aug. 4 with Class 1A and continuing through Aug. 20 with Region 1, the Deseret News will publish a preview for all 16 football regions in the state.
From Aug. 5 to Aug. 20, in-depth previews for all 103 teams playing varsity football this year will be published at deseretnews.com.
For complete schedules on all 103 teams and class-by-class preseason rankings, visit deseretnews.com.