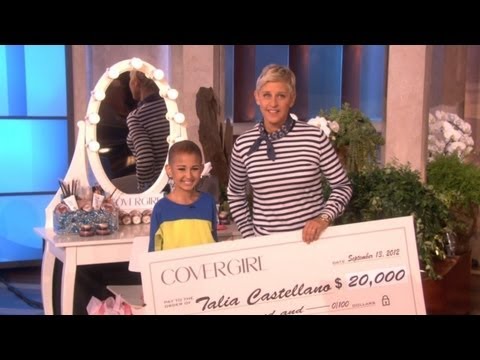 View 7 Items

Talia Castellano, a 13-year-old makeup artist who was an Honorary CoverGirl and YouTube sensation, died Tuesday morning after a six-year battle with neuroblastoma, an aggressive form of cancer.
The Facebook page "Angels for Talia" announced the news in a post yesterday, stating:
"It is with a heavy heart that we share with all of you that Talia has earned her wings at 11:22am. Please lift her beautiful soul, her beautiful light to heaven and please send your love and prayers to her family during this most difficult time," the post reads. "God speed little one, may you be free from pain and suffering, may your soul feel the light and love that you brought to so many of us on this Earth during the short time you were her with us. We will miss you more than you will ever know baby girl."
The Florida teen quickly gained fame with her popular makeup tutorials that she consistently posted to her YouTube channel, "taliajoy18," which has 759,110 subscribers and more than 15 million video views. Many of her followers are cancer patients as well who pass along their support through comments on her videos.
It was in October of last year that Ellen DeGeneres invited the young star to her show, fulfilling one of Talia's dreams to meet Ellen. DeGeneres announced that Talia would become an Honorary CoverGirl, revealing a CoverGirl portrait of Talia that eventually went viral, as many shared her inspirational story.
While on the show, DeGeneres also asked Talia how she remained positive while dealing with so much at a young age. Referring to DeGeneres' character Dory in "Finding Nemo," Talia responded that she simply remembers what a little fishy told her: "Just keep swimming, just keep swimming. ..."
DeGeneres responded to the news on Twitter.
"This year I met a very special girl, and today we lost her. Sending my heart to Talia's family. I'm so sad," DeGeneres tweeted.
CoverGirl also tweeted, expressing love for Talia:
"Talia Castellano was the meaning of a true COVERGIRL. Please join me in sending love and honoring her memory."
Thousands have also responded online, many commenting on Talia's Facebook page.
"Crazy how someone you've never met can hold a special place in your heart. Many tears reading this. Fly high Talia," Heather Mares Sledge posted.
"Rest in peace little Angel. You were an inspiration. Prayers for the family," Michelle Alves Boyer posted.
According to the thousands of comments and many memorials already created, during her short time on earth Talia was able to affect many lives.
"She loves the camera, loves an audience and fits right in in the entertainment world," her mother Desiree Castellano previously told TODAY.com. "She tells me all the time that she misses Ellen's studio and wants to get better so she can do more there. I think she was born to be a star."
Email: spetersen@deseretnews.com