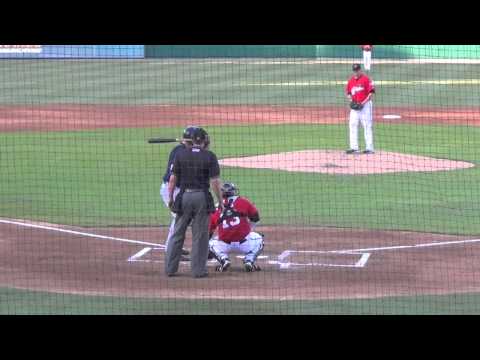 View 4 Items

My power's not really been there this year, but I feel that will change soon. I've been seeing the ball really well, putting really good swings on them and hitting a lot of balls hard lately, so I'm hoping just to keep having a good approach, keep sticking to what I do and keep hitting the ball.

—C.J. Cron
FRISCO, Texas — C.J. Cron has already had a successful season in AA, and he's about to add another interesting footnote to his year in the coming weeks.
The former Utah baseball standout who was a two-time Mountain West Conference Player of the Year before going 17th overall in the June 2011 Amateur Draft was a Texas League All-Star in June, but on July 14 will be playing for the U.S. Team at the 2013 Futures Game at Citi Field, home to the New York Mets, two days before the 2013 MLB All-Star Game.
"Yeah, it's been a fun year. A lot of ups and downs, a lot of adjustments, but the All-Star Game and now the Futures Game are definitely two humbling experiences," Cron said.
Naturally, this 23-year-old third baseman, who is the Angels' No. 3 prospect for 2013, according to Baseball America, is excited to play alongside and against many of baseball's top prospects in the Big Apple, but he's also eagerly anticipating the Futures Game for another reason.
That's because his father, Chris, who played for both the Angels and White Sox and currently manages Erie, the AA affiliate of the Detroit Tigers, will be coaching the U.S. side, his first chance to play for him since he was in middle school.
"It's exciting," Cron said. "I haven't seen him since the offseason, so it will be good to meet up with him and he'll have a chance to see me play, so it'll be pretty exciting."
Through 81 games with Arkansas of the AA Texas League, he is hitting .290 with 7 home runs and 52 RBIs, numbers which Travelers manager Tim Bogar, a former big-league infielder with the Mets, Astros and Dodgers, is impressed with.
But Bogar also realizes that Cron is nowhere close to reaching his full potential. "C.J.'s done a good job for us. When he first started the spring, his arm was sore and he's overcome that quite well. He's thrown the ball really well. He's playing good over at first base. He's covering a lot of ground," he said. "He's probably not happy with his power numbers, but as the summer's gone on he's starting to swing a little more aggressively, putting balls in play with a little more authority. He's hitting for a higher average, which has always been his trend, but he's got to start hitting for power, and that's going to start coming now."
Cron belted 27 home runs in 129 games last season for the Inland Empire of the High Single-A California League, a hitter-friendly circuit, and he hit 13 home runs in 34 games for Orem in the short season Single-A Northwest League in 2011, his first year of pro ball. So, he knows the potential to display greater power is there, and he's not panicking about his lack of power in AA.
That's because he realizes that as long as he sticks with his approach at the plate, the hits and the home runs will follow. "My power's not really been there this year, but I feel that will change soon. I've been seeing the ball really well, putting really good swings on them and hitting a lot of balls hard lately, so I'm hoping just to keep having a good approach, keep sticking to what I do and keep hitting the ball," Cron said.
And even though his starting first baseman was an All-Star, his current manager still sees plenty that this former Utah standout can improve on. "He's got to continue with his offense, to get pitches that he can drive and be a little more selective, know which pitches he can do damage with and then also defensively, he's working on his lateral movement," Bogar said. "He's a big boy. He's got to continue to work on his flexibility, his movement from side-to-side."
Cron's ultimate goal is to gain a promotion to AAA, which for the Angels would mean he would head back to a place he knows well in Salt Lake City. "It's awesome [to come from Utah]," he said. "I loved that school. I loved Salt Lake City, loved the school and to be a first-round pick out of there and the first one is special. I hope to have a lot more coming."
But he realizes that who gets promoted and when are decisions that are often out of the player's hands. That's why he is going to do all he can to ensure that happens before the end of 2013.
"I've got to keep getting better and better every day. Nothing's easy and I want to make the decision on them as tough as possible, so I've got to keep playing hard and keep doing my best to help the team win," Cron said.
Steve Hunt is a freelance writer based in Frisco, Texas.