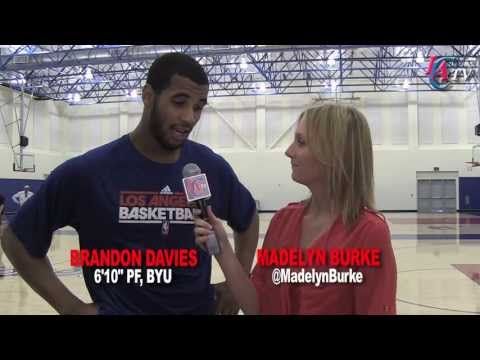 View 4 Items

I feel like I can play right away and do whatever I can to get minutes … rebound, score when I need to.

—Brandon Davies, on his NBA prospects
With the L.A. Clippers summer league team opening play Friday against the Atlanta Hawks, former BYU standout Brandon Davies will have the chance to show he deserves a spot on the Clippers' roster.
Davies already has signed a partially guaranteed contract with L.A. for next season, according to Sporting News' Sean Deveney. Deveney explained that a partially guaranteed contract means Davies, who went undrafted in this year's NBA draft, could be waived at any time before January, but he will get the guaranteed amount.
On the Clippers' summer roster, Davies is one of five players listed as either a power forward or center. According to team writer Eric Patten, "he'll likely start at power forward for the Clippers in Las Vegas."
Davies, a 6-foot-9 forward, averaged 17.7 points, 8.0 rebounds and 2.4 steals per game his senior year at BYU. He also shot 52 percent from the field this past season and finished his Cougar career among the school's top 10 in career points, rebounds, blocks and steals.
Davies told L.A. Clippers TV reporter Madelyn Burke he sees himself coming off the bench and being a role player in the NBA.
"I feel like I can play right away and do whatever I can to get minutes … rebound, score when I need to," he said after his workout with the team in June.
Among those who Davies will be battling with for minutes are third-year pro player JuJuan Johnson, former Cleveland Cavalier Samardo Samuels, D-Leaguer JaMychal Green and former Detroit Piston Vernon Macklin.
Johnson, according to Patten, is expected to back up Davies at power forward. Johnson, an All-American at Purdue, is headed into his third year in the pros, and has played in four NBA games, two each for Boston and Houston. In those four games, Johnson scored 13 total points and had nine rebounds while averaging seven minutes per game.
But last year, Johnson was cut by the Rockets, then bounced between three teams in the NBA's D-League.
Samuels, expected to start at center, has the most NBA experience among the summer league group. A three-year league veteran, Samuels has started 11 games in the NBA and has career averages of 5.9 points and 3.4 rebounds per game while shooting 44.5 percent from the field.
Green, who's expected to back up both front court positions in Vegas, spent his first pro season with the Austin Toros. In 40 games, including 25 starts, Green averaged 12.3 points, 8.1 rebounds and 1.4 assists per game.
Macklin, expected to be the Clippers' summer league team's backup center, also is headed into his third pro season. After Macklin played part of his rookie year with the Pistons, when he played in 23 games and averaged 2.0 points and 1.5 rebounds per game, he has spent time in the D-League and on a team in the Philippines.
Davies has been working on his offensive game since his Cougar career came to an end in early April.
"Ever since the season ended, (I've) just been working on broadening my range. And that hard work's been paying off," Davies told Burke.
Following a busy couple of days of transactions that became official beginning Wednesday as the NBA moratorium ended, there are just three spots available on the Clippers' 15-man roster.
Big man Ronny Turiaf, who was on the team last year and was an unrestricted free agent, signed a two-year deal with Minnesota on Thursday night.
In addition, two players who played for the Los Angeles team last year — Chauncey Billups and post man Lamar Odom — are unrestricted free agents and have yet to sign with a team. There are reports that Odom may re-sign with his old team, the Lakers, potentially clearing a spot for another post player on the Clippers' roster.
Among those re-signing with the Clippers is the highly publicized return of All-Star guard Chris Paul, as well as forward Matt Barnes and center Ryan Hollins. The team also signed its first-round draft pick, guard Reggie Bullock, on Thursday.
Post players who were on the Clipper roster from last season include DeAndre Jordan, Odom, Turiaf and DaJuan Summers (who is playing at small forward on the summer league team), as well as forwards Barnes, Reggie Bullock and Caron Butler.
Email: [email protected]; Twitter: @brandonljudd