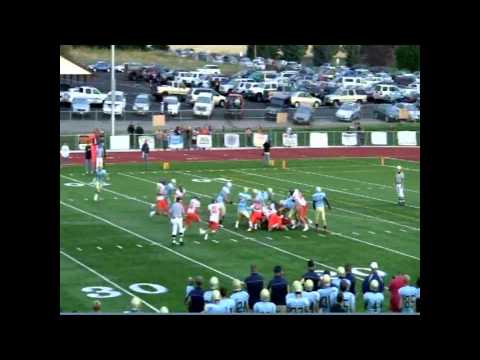 View 2 Items

He's big and very, very strong -- especially in his legs and hips. He has very quick feet; really an athletic kid. I think he's going to go there and play and have a great career with Utah.

—Mountain Crest coach Mark Wootton
LOGAN — Kyle Christiansen has wanted to play for the Utah Utes for a long time.
He now has a chance to make that dream a reality. The Mountain Crest High standout committed to sign with the Ute football program early Monday evening.
"I love Utah and always have," Christiansen said. "I love the football program there. I love the coaches. The atmosphere is awesome. I can't wait to get down there and be part of it."
Christiansen is a 6-foot-3, 315-pound offensive lineman who earned first-team all-state honors last season as a junior playing offensive line for the Mustangs. He held offers from Utah State and Hawaii at the time of his commitment. Schools like BYU and Boise State were showing increasing interest.
Christiansen was a standout at the All Poly Camp in late June, earning first-team honors.
Utah assistant coach Kalani Sitake was an active participant at the All Poly Camp and indicated to Christiansen that an offer would be coming his way shortly.
"I've known (coach Sitake) for a long time and they've been recruiting me since I was a sophomore, but he sort of let me know that an offer was coming," Christiansen said. "They offered right after the camp and after thinking about it for a bit I decided to commit."
93
comments on this story
Christiansen is a member of The Church of Jesus Christ of Latter-day Saints and has plans to serve a mission after high school. He hopes to graduate in January and leave at that point.
Upon returning he'll provide a strong and athletic body for the Utes.
"He's big and very, very strong — especially in his legs and hips," said Mountain Crest coach Mark Wootton. "He has very quick feet; really an athletic kid. I think he's going to go there and play and have a great career with Utah. ... He's a pretty humble kid, but he's not afraid to work. (Utah) is getting a good player."
Email: bgurney@desnews.com
Twitter: @BrandonCGurney