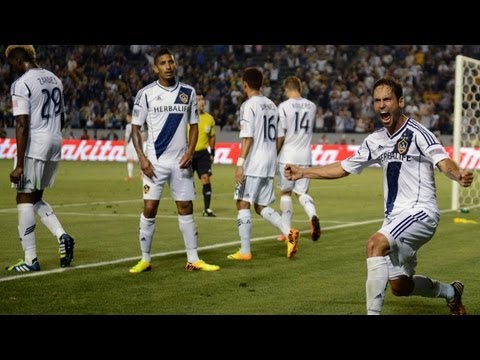 View 6 Items



I keep saying we can't worry about other teams, which is true, but at the same time, when you look at the games it's hard not to root for the Eastern Conference against the West...

—Chris Wingert
Real Salt Lake went into last weekend's mini four-day break all alone atop the MLS standings, and following several favorable results, that's where it remains.
In soccer, most believe it's better to have points in your pocket than games in hand, and that's exactly how things played out over the weekend.
After last Wednesday's dramatic comeback against Philadelphia, RSL improved to 34 points and moved three or four points clear of Dallas, Montreal and Portland at the top of the table.
All three of those teams had games over the weekend — but none of them won.
"When I saw the results I was pretty pleased, but again I feel like if we keep taking care of our own business like we've been doing a good job of, things tend to work out," said defender Chris Wingert.
Dallas lost to Los Angeles; Portland lost to Columbus; and Montreal settled for a 1-1 draw at home to West bottom feeder Chivas USA.
Victories by Los Angeles and Kansas City helped vault those two teams into the Supporters' Shield picture at just past the midway point of the regular season, but it's a pursuit that starts along the Wasatch Front.
Real Salt Lake sits three points clear of Dallas and Montreal and four points clear of Los Angeles, Kansas City and Portland in the standings.
Following RSL's bye weekend, Montreal and Portland are the only MLS teams in the top six in the Supporters' Shield race with games in hand.
"I keep saying we can't worry about other teams, which is true, but at the same time, when you look at the games it's hard not to root for the Eastern Conference against the West, or the West teams playing for a tie," said Wingert.
RSL's next two matches are at Dallas and against visiting Kansas City, games that kick off off arguably the toughest six-week stretch of the 2013 season.
Khari Stephenson said the Supporters' Shield should be the last thing on anyone's mind. The midfielder made large contributions to San Jose's Supporters' Shield run in 2012, and he said the trophy was rarely even mentioned down the stretch.
"In San Jose we never put too much pressure on ourselves. We went out every day and worked hard. It was never about, 'We need to stay on top of the table.' We're playing well. Let's just keep doing what we're doing. The more pressure you put on yourselves the harder it's going to be," said Stephenson.
Comment on this story
With that said, Real Salt Lake's front office has always lauded the importance of winning trophies since claiming the 2009 MLS Cup. It hasn't won anything the past three years.
Without Champions League games to juggle this fall, Real Salt Lake's early-season success puts it in prime position to make a serious run at the Supporters' Shield in the second half of the MLS season.
Even if the players downplay the possibility of claiming the trophy, don't expect them to take it lightly — or do some scoreboard watching for more favorable results.