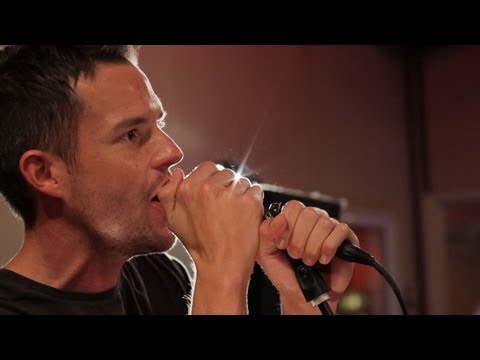 View 15 Items
YouTube

Although he said he does not want to come across as preachy, rock star Brandon Flowers is open to talking about his LDS faith.
"I was raised in the church and there's still a fire burning inside me, Flowers said in an interview with the Scottish Sun. "I definitely don't ever want to be preachy. But less and less young people are religious. The thing is, I see so many positive things about religion, so I'm happy to talk about it."
Other notable singers have also publicly discussed their faith.
"I look up to people that were religious and did this. U2 have a lot of religion, also people like Johnny Cash and Elvis," Flowers said. "Those people weren't shy about it — it's nice there are people who've come before that were open about it."
Flowers is the frontman in The Killers, a rock band with four albums that has topped the charts in the U.S. and U.K., as well as sold more than 20 millions copies worldwide, according to the Scottish Sun.
Last month, The Killers performed in front of an audience of 70,000 at Wembley Stadium in London. On the band's current tour, it will headline at the T in the Park Festival in Scotland July 11 and 12.
"T in the Park is still a big deal for us," Flowers said. "We just hope we're not wearing out our welcome. It's a bit of pressure, but we are always honored to be thought of as headliners."
But music isn't the only driving factor in the star's life. As a father of three, Flowers admits that his family role influences how he writes lyrics.
"In a lot of ways, that's surpassed the music now for me," Flowers said of his family. "I've definitely got a lot more cautious about my lyrics — I feel I want to be a positive force in the world and I want to uplift people. That's something that comes with age."
12
comments on this story
Flowers released a solo album in 2010 and plans to create a second.
"I'm definitely gonna do another solo record at some point," Flowers said in an interview with NME.com. " 'Flamingo' wasn't just me dipping my toes in the water. I really loved it. It was successful, and that helps, but I love those songs and I miss singing them. It wasn't something I had totally planned on, but I'm always writing songs, and I think — or I hope — that I'm always gonna have that. So what else am I supposed to do with myself?"
Abby Stevens is an intern for the DeseretNews.com Faith and Family sections. She is a recent graduate of Brigham Young University–Idaho. Contact her at astevens@deseretdigital.com.