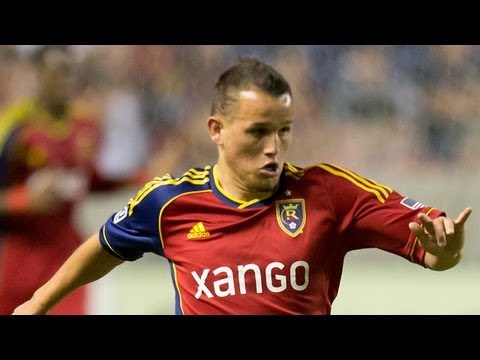 View 11 Items
YouTube


It's a good break for us we got a hard month coming up ahead of us so we've got to prepare for that.

—Luis Gil
SANDY — Fresh off of Wednesday's dramatic draw against Philadelphia, the calendar for Real Salt Lake the rest of the holiday week read as follows:
Off day.
Off day.
Off day.
Off day.
"We're all going to take four days and get away from the game to rest up and relax and recuperate. And then we'll hit it hard next week and get ourselves prepared for Dallas," said RSL coach Jason Kreis during Wednesday's press conference.
When an RSL communication member joked with Kreis and said, "no media?", he quickly responded, "don't even think about it."
Even though eight of RSL's last nine matches have been at home, it's been a very busy stretch thanks to the U.S. Open Cup for the MLS leaders and the break comes at an opportune time.
"We'll obviously take the rest whenever we can get it, especially in the summer months. It's going to be a really difficult month," said midfielder Ned Grabavoy. "I've kind of said that from the beginning. We obviously need to play better than that to keep picking up points, especially in the next game."
Real Salt Lake returns to action next Saturday at FC Dallas, a place it has never won in the nine-year history of the club.
It will once again be without Kyle Beckerman, Nick Rimando, Tony Beltran and Alvaro Saborio because of international duty, and now Lovell Palmer will be out as well because of Wednesday's red card.
Kreis said he won't think about those line-up dilemmas until the team returns to training next week.
One player in particular who's grateful for the rest is Luis Gil. After a busy couple of weeks with the U.S. Under-20 National Team in Turkey, Gil returning to Utah late last Friday but prepared himself mentally to make a huge contribution as a substitute on Wednesday.
"I think everybody needs it. Me personally I've had a long week with the national team and these guys as well back here, we've had a lot of games that are Saturday, Wednesday. It's a good break for us we got a hard month coming up ahead of us so we've got to prepare for that," said Gil.
Unbeaten in 10 straight, three of RSL's next four matches are on the road — and in the broader picture 5 of the next 7.
1
comment on this story
Salt Lake will be hard-pressed to stay top of the MLS table with the difficult schedule, but after what happened Wednesday anything is possible with the streaking club.
"After tonight, it's amazing. I can't say enough," said Kreis. "We went through a lot of adversity being down a goal, down a man, and what I felt were a lot of strange decisions by the referee. Continuing to battle on — scoring a goal to tie it, then giving away a goal right after it — again I think the referee is involved there.
"Our guys just kept pushing and pushing and pushing, and my hat is off to them."