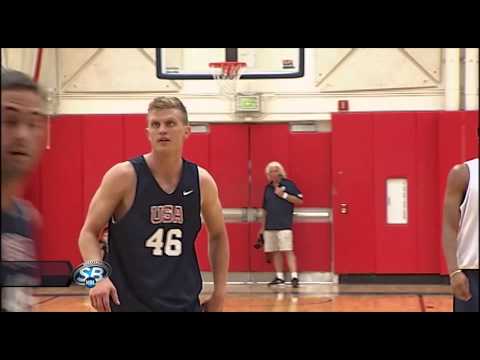 View 25 Items

There is a reason Ty fills up a box score, a reason he led the WCC in scoring and was one of the top scorers in the country last year at BYU. He paid the price a long time ago and continues to do so today. He practices his guts out every day.

—Golden Holt, Orem High head coach
If you could build a basketball player from the inside out, send him out to dream of what he can do, and then sit back and watch it all unfold, you'd get yourself Tyler Haws.
When it comes to his game, Haws doesn't know the moss-collecting state of inertia.
His work, dedication and love for the game continues to pay dividends.
Right now, the BYU junior is in Kazan, Russia, where he joined 11 teammates on the USA basketball team in a 96-60 scrimmage win against a Russian team Thursday. Haws had 12 points in that exhibition tuneup. After another exhibition game against Russia on Friday Haws will participate in opening ceremonies of the World University Games Saturday. He will be wearing the uniform of his country, representing the best non-professional basketball players in America against the elite of the world.
This is a dream that began many years ago when Tyler was just a tyke. He wanted to play basketball like his dad, former Cougar Marty Haws, and he did everything he could to make it happen. Back in elementary school, when many other kids were glued to video games, young Haws had a basketball in his hands. He labored through drills, shooting tens of thousands of field goals and tens of thousands of free throws.
"What you see is an athlete who is a practice machine," said family friend Golden Holt, Orem High's head coach and the AAU coach for Haws' younger brother, Lone Peak star TJ.
Said Holt: "There is a reason Ty fills up a box score, a reason he led the WCC in scoring and was one of the top scorers in the country last year at BYU. He paid the price a long time ago and continues to do so today. He practices his guts out every day."
USA coach Bob McKillop from Davidson has quickly noticed Haws as a team player, an athlete that adapts well to a system and knows his strengths.
"I understand why he scored 20-plus points a game," said McKillop. "He has a knack for putting the ball in the basket. His short-range game is superb."
The USA team opens up World University Games pool play Sunday against the United Arab Emirates. The game will be televised on ESPNU at 5 p.m. MDT. The field of 24 teams is divided into four pools. The top two teams from each pool will advance to medal quarterfinals.
Making the USA squad is a very big deal. It marks Haws as one of the country's elite college basketball talents. Coming off a remarkable sophomore season for the Cougars, it spices up his resume for the future. His personal data sheet already includes the citation as a two-time Utah Mr. Basketball and he is the all-time leading scorer at Lone Peak High, a national headline-making program in Utah County.
Since Haws walked off the floor in Madison Square Garden last March after BYU lost in the NIT Final Four, he's continued a workout regime to improve his game. So what else is new?
Haws was restricted to a conservative weight room approach in 2012 when he returned from his mission for The Church of Jesus Christ of Latter-day Saints and two-year absence from the game. Now he's pumping iron more aggressively. Responding to a challenge by BYU coaches to increase his range, he's targeting improving the length of his shot beyond the arc. To react to defenders focusing on his outstanding mid-range game, he's also worked on effective ways to finish at the rim after a move or drive.
Those who have seen all this develop from toddler to Russia are his family, especially his father Marty.
"Obviously we are extremely proud, not only to see Tyler's hard work pay off, but also the efforts of all the coaches he's had," said Marty. "Everyone's put forth quite a lot of effort. Going in, we don't know where this will end up, but it sure is fun that he was able to make this team and represent this country in Russia."
By increasing his value on the court, Tyler is due for an intriguing experience with the USA team.
In the WCC, Haws saw teams adapt to his game and design plans to aggressively defend him because he was BYU's big weapon. It will be interesting to see how his game unfolds on Team USA, where 11 other players are talented and must be respected.
"Everything changes," said his father of his expectations on how Tyler will perform and be guarded on an all-star team. "Your role changes and that's where I think Tyler can be really effective because he won't feel he has to make a certain number of baskets or score a certain number of points. His mindset is to make a play to make his team better and find a way to win. That's what Tyler has been training to do before he left."
Tyler's life is centered around basketball these days. He remains single at BYU and doesn't hold a job. His job is bouncing the ball.
A daily workout for Haws this spring and summer consists of two hours of simply shooting from spots all over the floor. He then works out an hour to 90 minutes in the weight room. Before calling it quits for the day he looks for some kind of competitive situation, either a one-on-one, two-on-two or five-on-five scrimmage to keep sharp. "He spreads all of this out and puts all his time and energy into it right now," said Marty. "He really likes doing this and he's fortunate to have the time to do it."
Marty says his son realizes what it means to represent his country, school and community on a team that plays around the world. "It means a lot to him personally and it isn't lost on him that it is a great opportunity."
Since making the USA team, Haws continues to find himself in demand to explain his faith and his role as a member of the LDS Church.
This past week, the official website of USA Basketball featured Haws and talked about how his two years as a missionary in Quezon City, Philippines broadened his horizons. In short, young Haws has been a focal point for many positive messages to both youths and adults across the world.
A couple of years ago, both his parents, Marty and Tiffanie, were featured in a church video on Tyler's basketball career and how he put it on hold as he served a two-year mission to the Philippines. As talented as their son was in basketball, he sacrificed developing it to serve the people of the Philippines, a country that could have brought Haws dangerously close to hepatitis A and B, typhoid, Japanese encephalitis and malaria.
Back in high school, Tyler was chosen by the LDS church to be the center of a worldwide training film for Aaronic priesthood quorums teaching youths how to lead and conduct meetings and care for members. Shortly after making the USA team and flying to Russia, he spoke at a church fireside in Colorado Springs, Colo., sandwiching in his remarks between a practice and team meetings.
This isn't lost on the exposure-conscious BYU basketball coaches who were involved in summer camps the week Tyler packed for Russia.
"Our staff was thrilled. We were living and dying with every word out of Colorado Springs whether he made the team, and when he did, we were all high-fiving each other in the room before calling Marty and Tyler," said assistant coach Tim LaComb.
"It is a great honor to represent the country and we know how hard Tyler worked to get there."
Lacomb said Tyler making the USA team is one more thing BYU's program can point to in recruiting.
"There are a lot of things that people talk about in recruiting but we try to talk about our own. We had the opportunity to coach the national player of the year in Jimmer Fredette; we made it to the Sweet 16; and now one of our own was invited to try to make the USA team and is now playing in the World University Games in Russia."
In short, it's been a long journey from Utah County to Kazan, where Haws will rub shoulders with Luke Hancock of Louisville's NCAA championship squad, Baylor's Cory Jefferson, Creighton's Doug McDermott and Spencer Dinwiddie from Colorado — to name a few.
But in a sense, it's a beginning for Haws, who has taken his game from the national stage to a world setting.
Utah couldn't ask for a better representative of the Beehive State.
Dick Harmon, Deseret News sports columnist, can be found on Twitter as Harmonwrites and can be contacted at [email protected].