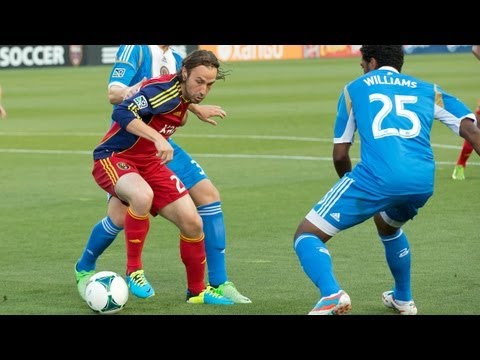 View 10 Items

SANDY — Wednesday's match will be the only time Real Salt Lake faces the Philadelphia Union this season. RSL is currently the hottest team in Major League Soccer with seven wins across all competitions and unbeaten in its last 10 games across all competitions.
Four players missed Wednesday night's game with national team duty (Rimando, Beltran, Beckerman, and Saborio) filling the holes with a makeshift lineup that Philadelphia tried to exploit with physical play and a high attacking line. It rattled Yordany Alvarez, filling in for Kyle Beckerman in the all-critical holding midfield position, and RSL struggled to develop much momentum through the midfield all night.
Carlos Salcedo, filling in for an injured Chris Schuler, has been rock solid each time he's played for the Claret and Cobalt this season. He played well Wednesday night, except for one poor judgment call against crafty Philadelphia veteran Conor Casey who exploited a misjudged slide tackle in the box to assist Philadelphia's Sebastian Le Toux to an easy score to put RSL in the hole early.
RSL came back out in the second half as off kilter as it had been during the first half. Kreis wasted little time pulling Alvarez, Robbie Findley and Khari Stephenson from the game and replacing them with Luis Gil, Sebastian Velasquez and Olmes Garcia. All three had an impact but Gil and Velasquez were instrumental in bringing RSL level with Philadelphia in the 75th minute. Velasquez with his effort to keep the ball in Philly's end, and Gil with the header off Javier Morales' corner kick. Philly responded almost immediately with another goal and it looked like RSL might end its unbeaten streak.
Comment on this story
But speaking of Javier Morales, RSL's master midfielder went into beast mode, keeping Philly's defense on their heels during the final 30 minutes, and putting away a 94th minute PK to bring RSL level. And that with only 10 men after Lovel Palmer was sent off with a red card in the 59th minute. The fireworks the followed the game seemed like a continuation of the fireworks on the field as RSL turned the final 30 minutes into a visceral display of grit, determination and ability.
Click here to view the position-by-position grades handed to Real Salt Lake following their 2-2 draw with Philadelphia Union.