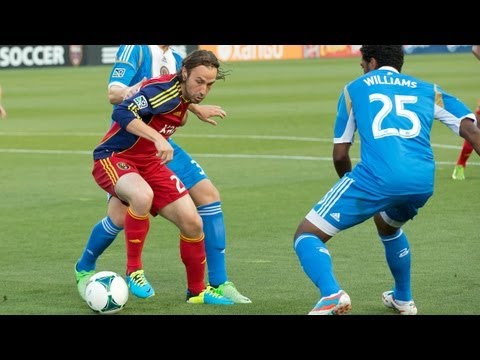 View 11 Items


SANDY — Real Salt Lake knew there was a good chance star goalkeeper Nick Rimando would be away with the U.S. national team this summer.
It prepared accordingly.
This past offseason, the club brought in veteran 'keeper Josh Saunders, who won multiple MLS Cups and Supporters' Shield titles with the L.A. Galaxy.
Saunders has started during RSL's U.S. Open Cup matches, and with Rimando away with the U.S. during the Gold Cup, RSL's offseason acquisition started in goal against the Philadelphia Union on Wednesday night at Rio Tinto Stadium.
When they had the chance to get Saunders last winter, RSL coach Jason Kreis and general manager Garth Lagerwey pounced on the opportunity.
"We had a really early heads up from Jurgen (Klinsmann) that there was a really good chance Nick would be involved in the Gold Cup," said Kreis. "So it became critical for us that we get somebody that had MLS experience already.
"Josh became available, and then I think there have been so many opportune pickups over the years, and I think it's just another one of those," admitted Kreis.
CHANT BANNED: RSL and MLS have joined forces in an effort to discourage "chants employing mass use of foul language."
Before Wednesday's match, seats at Rio Tinto Stadium bore a small letter from RSL management, asking for all fans to come together and put an end to one particular chant.
According to a statement released on the club's website, if fans don't "self-eradicate" the chant over the next three matches, RSL could impose sanctions against things like smoke devices, flag poles, banners, drums, megaphones, or other displays permitted at home or away matches. It could also retract parking passes, stadium credentials and field passes at Rio Tinto Stadium.
PERFECT HARMONY: The lads in Claret-and-Cobalt had been riding quite a high coming into Wednesday night's match.
Comment on this story
Winners of their last seven games across all competitions and unbeaten in their last 10 games, RSL's players had certainly been jiving leading up to a match against Philadelphia.
"We came into it with that exact plan … that we put a tremendous amount of weight in the character of the players, and harmony in the locker room," said Kreis.
"I think that every success that we've had was because of that, and I think every success that we've had recently this year is because of that."
RSL had outscored opponents 25-7 during a 9-game unbeaten streak heading into Wednesday's match.
Follow me on Twitter: TheConner88