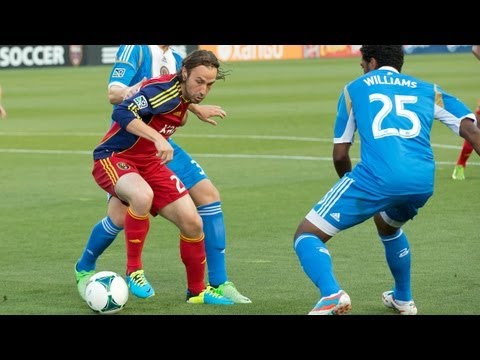 View 11 Items


It's a character builder. You look at teams that will crumble. A lot of teams would in this situation, but we showed the fight, we have the will to win and the will to play for each other and that's what we were able to do.

—Josh Saunders, RSL keeper
SANDY — As great as June was for Real Salt Lake — six wins in six matches— July began with even more fireworks.
Down a goal and a man for most of the second half, RSL twice overcame one-goal deficits, the last courtesy of a 97th-minute penalty kick by Javier Morales as he capped a thrilling 2-2 draw in front of a sell-out crowd at Rio Tinto Stadium.
Seconds before the ref was set to blow the final whistle on Real Salt Lake's nine-game unbeaten streak, Philadelphia defender Raymon Gaddis was whistled for an obvious handball in the box.
Morales calmly stepped up and banged the penalty in off the right post on fireworks night at Rio Tinto Stadium. Incredibly, RSL is now 5-0-6 all time on fireworks night since Jason Kreis took over as head coach.
"Crazy roller-coaster type of a game," said RSL's Nat Borchers.
Fresh off of last weekend's inaugural victory in Canada, which stretched the franchise's winning streak to seven-straight, it looked as if RSL was headed for a bit of a reality check against the Union.
That was particularly the case after Conor Casey put Philadelphia ahead 2-1 in the 76th minute, less than one minute after Luis Gil had equalized for 10-man Real Salt Lake.
RSL never sulked about the quick tally, instead attacking in waves over the final 20 minutes despite playing a man down after a Lovel Palmer red card in the 59th minute.
It was rewarded as Morales' penalty kick stretched RSL's unbeaten streak to 10 straight dating back to May 19.
"It's a character builder. You look at teams that will crumble. A lot of teams would in this situation, but we showed the fight. We have the will to win and the will to play for each other and that's what we were able to do," said RSL 'keeper Josh Saunders.
The match was the first of several this month for Real Salt Lake without starters Kyle Beckerman, Tony Beltran, Nick Rimando and Alvaro Saborio because of the CONCACAF Gold Cup, and Beckerman's absence in particular was noticeable.
Without the captain patrolling the midfield and Philadelphia realistically playing with five guys in the midfield, Real Salt Lake struggled to find a way through Philadelphia's first line of defense throughout the first half.
"Going into the second half we still felt like they're going to get tired, spaces are going to open up, which they did. The red card just changed the game obviously numbers-wise," said midfielder Ned Grabavoy.
Hope for a second-half comeback seemed dashed when Palmer was shown a straight-red card for a challenge on Michael Farfan in the 59th minute, but some attacking-minded subs gave RSL life despite playing with just three defenders.
Gil provided the biggest spark.
Fresh off his return from the Under-20 World Cup in Turkey, Gil tied the game at 1-1 in the 75th minute as he headed home a well-struck Morales corner kick.
"It's good to get a goal in. I made a little fake in the box. … I got a wide-open header and I put it away," said Gil.
The celebration was very, very short-lived.
In the 76th minute, Borchers slipped while tracking back to mark Antoine Hoppenot, giving the Philly substitute plenty of time to pick out Casey with a perfect cross for the 2-1 lead.
"The second goal is my fault," said Borchers. "That's what good teammates do: They pick you up when you're down. We just kept battling and going after them. I am just shocked we got so many chances and happy we got the result."
Philadelphia set the tone early, striking first in the 13th minute, capitalizing on a stretched RSL defense — the result of a Chris Wingert-supporting run up field. The Union countered quickly into the vacated space up the right sideline, with Sebastian Le Toux ultimately finishing a Casey cross from close range for the 1-0 lead.
The Philly goal snapped a stretch of 384 consecutive minutes of shutout soccer by RSL.
RSL striker Robbie Findley had a chance to equalize a few minutes later, but his header from close range bounced just wide of the post after he was bumped slightly by a Union defender.
RSL will now take the rest of the week off before resuming training next week as it prepares for next Saturday's match at FC Dallas.