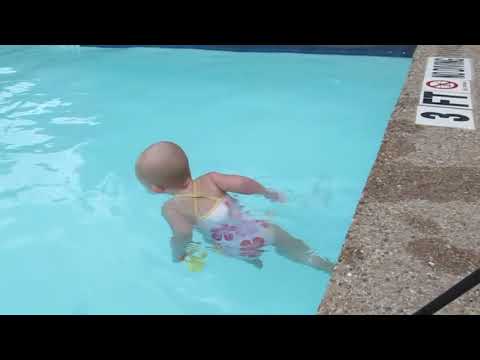 View 6 Items

A swimming toddler has taken YouTube by storm, generating reactions from both concerned and supportive parents.
Elizabeth was 16-months-old when her father, who identified himself as Adam BC, took the footage of his daughter swimming the length of a pool without help from any person or floating device.
The video was published last August but has only now gained viral attention. As of Tuesday, the video had received more than 1 million views, with almost 5,000 comments.
In the video's description, Adam gives an explanation, having anticipated that other parents might be alarmed.
"Just so everyone knows, I am a registered nurse, and my wife was a life guard for six years and taught swimming for three," the post says. "Not only are we both professionally trained in CPR and water safety, I am certified in advanced pediatric life support."
Adam continued to explain that Elizabeth had already experienced training from Infant Swimming Resource instructors, an organization that encourages early swimming experience for toddlers.
Infant Swimming Resource reports that in 19 states, childhood drowning is the No. 1 cause of accidental death for children ages 4 and under.
"But drowning is a preventable tragedy," the site states. "Our mission is to ensure that not one more child drowns."
According to a study conducted by Consumer Product Safety Commission, drowning claims roughly 400 lives of children under age 5 per year.
This is one of the main reasons Adam posted the video of his daughter.
"Teach your child how to swim because it only takes a moment for them to slip under and drown," Adam posted. "Sometimes the difference between life and death can be 6 inches of water and their ability to flip over on their back and take a breath."
Adam also warns parents to not get too eager about teaching their children to swim without some guided counsel.
"Please, do not just throw your child in the water and expect them to swim. That is both dangerous and a quick way to traumatize your child and scare them from ever swimming," Adam wrote. "ISR uses specialized techniques in training infants and toddlers."
Yet, even with Adam's detailed explanation, some parents have voiced their concern for the young swimmer.
"Not sure how I feel about this," Chris Lawrence commented on the video. "He's not even in the pool with her. And she said she's done but he makes her swim more, and she seems to be struggling for her breath."
Because the toddler is still learning to talk, many have also questioned if it is right for parents to force anything upon their children.
"She looks like she's being forced to do this. Look at her face when she surfaces the first time," one commenter said.
Yet the majority of the comments have commended the parents for their precautionary decision to teach their daughter to swim.
"Wow. Your daughter is absolutely amazing! Her lungs are going to be so well developed as she continues," another commenter said. "It's so awesome to see parents actively teaching their kids necessary skills like swimming. I'm in my 20s and only just learned how to swim two years ago. Awesome video! God bless!"
"Any parent that has a pool has a responsibility to either teach their kids to swim or take the pool out," Wale Animashaun wrote. "This video is amazing! It looks so unreal."
The toddler's parents celebrate their swimming prodigy while remaining concerned for her safety.
"Elizabeth is a very determined little girl and sometimes she wants to roll over and breath(e) as she was taught and sometimes she wants to hold her breath the whole way," Adam wrote. "I was 100 percent prepared to jump in at first sign of distress."