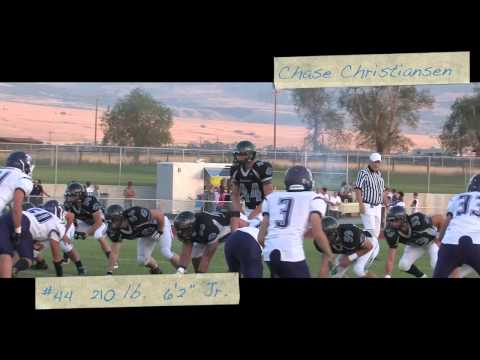 View 2 Items

A lot of my decision was based on coaching staff and the way they handle their players. Even from an academic standpoint, I liked the way they pushed them. I really started to become really comfortable with being an Aggie and being a part of what they were doing.

—Chase Christiansen
STANSBURY PARK — After receiving multiple offers from programs all across the state of Utah, Chase Christiansen, a senior at Stansbury High School, has made his decision on where to play his college football.
Christiansen is Utah State's first commit from the 2014 class. The two-way player is also choosing a team that is coming off one its best season in school history.
"After going to their camp with my team, they worked me out individually on the second day," said Christiansen. "Coach Wells pulled me into his office and he offered me a scholarship. That's when I started to do some research."
Utah State began to contact the 6-foot-2, 210-pound senior during the offseason, but it wasn't until the camp in mid-June when USU got to see Christiansen in person.
"I took another visit with my family on Sunday (June 30) and met with coach Wells again. I felt really comfortable, and I really liked what was happening up there."
Christiansen also had offers on the table from the University of Utah and Southern Utah University. Christiansen said that it took a lot of thinking, but when he considered all his options, playing at Utah State was what he wanted to do.
"A lot of my decision was based on coaching staff and the way they handle their players," said Christiansen. "Even from an academic standpoint, I liked the way they pushed them. I really started to become really comfortable with being an Aggie and being a part of what they were doing."
Although many people recognize him for his quarterbacking in the triple option offense, Christiansen will likely play defense in Logan. In a limited role last season, Christiansen made 65 tackles for the Stansbury Stallions at linebacker and defensive back.
"They really haven't found a specific position for me yet, but it will likely be on defense," said Christiansen. "It's pretty cool. I think I have a great opportunity to find myself a spot to play. I know I need to get bigger, faster, stronger. But I know with the right amount of work and coaching, I can be whatever they need me to be."
Christiansen has been a part of a couple of winning teams at Stansbury. The Stallions have been 20-3 with two Region 11 titles in the past two seasons. Christiansen has been named Region 11 MVP twice, and has also been named to the 3A All-State First Team once and the Second Team once. Although the Stallions have had great success, they have never passed the second round of the playoffs. Heading into his final season at Stansbury, Christiansen knows that things must change.
"The last two seasons have been good, but I think we've missed out both years," said Christiansen. "It's been frustrating. I know that as a team we want to go deeper and reach our full potential."
Although Christiansen has committed to Utah State, he knows that he has a job to do in Stansbury for one more year.
6
comments on this story
"It's nice to know that I'm committed, but having been beaten in the second round of the playoffs two years in a row, we want more."
Christiansen also added that it wouldn't hold well in his mind to just give up on his teammates like that.
"I can't just take it easy when I've got my teammates counting on me to give everything just like they are," said Christiansen. "Right now, I'm a Stansbury Stallion. I can worry about playing for Utah State after that's over. But first things first; we've got to take care of business here."
CJ Pronk is a Deseret Digital Media intern and a Stansbury High School graduate. Follow him on Twitter @BigCeeJ3113