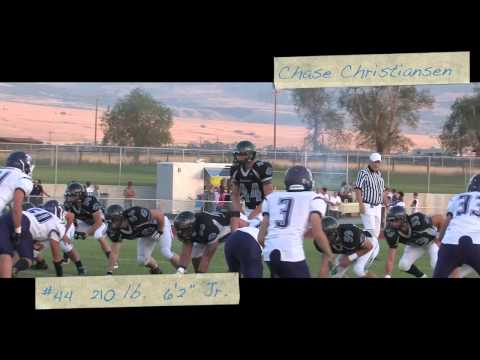 View 3 Items

After spending some time up there with some of the coaches and seeing where the program is headed — that was probably it for me. I love everything about it.

—Chase Christiansen, USU football commit
TOOELE — Stansbury's Chase Christiansen announced his commitment to Utah State University through his personal Twitter account Tuesday afternoon.
"Utah State committed baby!!! #GoAggies #USU," Christiansen tweeted.
Christiansen is slated to enter his third year behind center under the direction of his father, Clint, at Stansbury. During his time with the Stallions, he's been instrumental in developing the upstart program, entering its fifth year of existence.
"After spending some time up there with some of the coaches and seeing where the program is headed — that was probably it for me," Christiansen said when asked what ultimately separated Utah State from other suitors. "I love everything about it."
However, Christiansen said the Aggies' affiliation with the Mountain West Conference hardly influenced his decision.
"Little to none," he said. "I wasn't worried about what conference. I just like the people there and what they were doing."
Operating out of the triple-option, Christiansen rushed for 953 yards and 19 touchdowns on 116 carries his junior season and threw for 674 yards and 11 touchdowns with only two interceptions.
In total, Christiansen has amassed 3,368 yards of offensive production and 53 touchdowns, but the consensus expectation is he'll play on the dark side of the ball for the Aggies.
Christiansen, at 6-foot-2, has been able to equate his natural instinct and speed acquired playing offense into a run-stopping plug at linebacker. In 2012, he tallied 63 tackles and one interception in limited action while toggling quarterbacking responsibilities.
"I love the option game, but aside from that I can't say I like offense more," Christiansen said. "I love playing defense. It's more energetic and more fun."
This marks the first commitment from the 2014 Class for Utah State. Christiansen maintained offers from Utah and Southern Utah.
Email: tphibbs@deseretnews.com
Twitter: @TPhibbsDNews