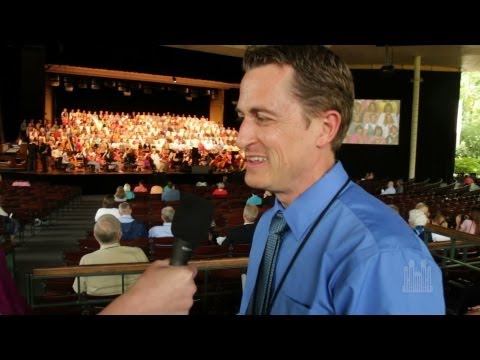 View 38 Items




The Mormon Tabernacle Choir and Orchestra at Temple Square concluded their nine day tour of the upper midwest by ending in Minneapolis, Minn. June 20. The choir and orchestra received praise for each of their six concerts.
"There are concert tours, and then there are concert tours. The Mormon Tabernacle Choir would fall under the latter," said the Mundelein Review, based in Illinois.
Members of The Mormon Tabernacle Choir shared highlights from each day of the tour on the choir's recently redesigned website, www.mormontabernaclechoir.org.
Here's a look at those performances and the impressions they left.
Columbus, Ohio
For the first day of the tour, Will Francis (French horn) wrote of the choir and orchestra's experience in Columbus, Ohio, on June 12:
"The concert we just gave here was a special one. ... This Columbus audience was enthusiastic and genuine," Francis said. "We were blessed tonight, and every time we sing and play, to bring with us a set of powerful messages. Through our music we say to our audiences that there is beauty and truth in the world; that even though it may often seem dark and frightening, we are the children of a Heavenly Father who loves us and will give us strength."
At each concert the choir had a guest conductor lead an encore number of either "You'll Never Walk Alone," "God Bless America" or "Climb Ev'ry Mountain." Audience members texted or tweeted in their encore song of choice. Gordon Gee, president of Ohio State University, lead the choir while wearing his signature bow tie.
The choir and orchestra's professionalism, quality and repertoire impressed the Columbus community.
"The choir's technique is flawless, and its performance style clean, devoid of artifice and deeply American," said Lynn Green in the Columbus Dispatch. "Although it performs a primarily sacred repertoire, some of the strongest moments were from traditional and American songbook selections."
Indianapolis, Ind.
After the concert in Columbus, 11 busses transported the choir and orchestra to Indianapolis, Ind., where they arrived shortly after 1 a.m. They rested and explored Indianapolis on day two, and held a concert in the city on the third day.
The day before the concert, the Indiana Pacers presented the choir and orchestra with personalized Pacers jerseys.
"This is just something simple that we could do to thank the choir for coming to visit us and sharing their talents with our community," Rich Kapp, Pacers' vice president of facility services and one of the jersey presenters, said.
Cellist Elizabeth Marsh wrote about her experience in Indianapolis on the choir's website:
"The last time the Mormon Tabernacle Choir performed here, my grandparents were not yet born. Now, 112 years later, the world, the Choir and Indianapolis are all a lot different," Marsh wrote. "This particular trip is different for me, too. I've been on tour with the choir three times before, but flying, busing, rehearsing, performing and juggling luggage are all a little trickier when you're nearly six months pregnant. It has been really special, though. I've felt the baby kicking during certain songs, and tonight was no different. During the second half of the concert, my tummy was bumping against the back of my cello nearly every time there was even a hint of crescendo."
Indiana Gov. Mike Pence lead the choir and orchestra to "This Land is Your Land" as the concert's guest conductor.
Chicago, Ill.
On day four of the tour the Choir and Orchestra performed in a suburb north of Chicago. They greeted a crowd of more than 8,000 people who filled the pavilion seats as well as the lawn area.
"The end of the concert was particularly poignant. Instead of honoring a single person as guest conductor, the Chicago committee decided it wanted to honor a class of people: our servicemen and servicewomen worldwide," wrote alto choir member Kristin Gerdy. "To represent that group and lead us in our encore was James Gennari."
Gennari served as a trauma care nurse in the Navy, and he received a Bronze Star for his service. In Afghanistan, Gennari stayed with a wounded soldier who had a live grenade impaled in his leg until it was removed.
"We serve because you need us to. None of us do it alone, and the 'big guy' was there, too," Gennari said.
Day five of the tour fell on Father's Day Sunday, where the choir stayed in Schaumburg, Ill. Choir and orchestra members filled the day with worship and reflected on their fathers.
"There's nothing like a Tabernacle Choir sacrament meeting. It's wonderful to look out over this singular congregation and notice that everyone is singing," Bonita Cross wrote on the Choir's website. "And we can sing the melody if we want to."
Milwaukee, Wis.
With the tour halfway through, the choir and orchestra kept sharp to maintain a high level of excellence.
"Midway through our tour, we have come to the point where the concert program has become quite familiar. In a way, this presents a potential challenge of its own because it is easy for us to become almost too comfortable with the pieces," said baritone choir member Eric Huntsman on the Mormon Tabernacle Choir site. "Repeating his frequent observation that 'it does not happen on its own,' Dr. Wilberg encouraged us to concentrate and keep working hard, and I think we were successful."
The Milwaukee concert's guest conductor for the final encore was Jerome E. Listecki, the archbishop of Milwaukee, who was already familiar with the choir.
"A former military chaplain, Archbishop Listecki joked with us during the sound check about meeting with small groups of tired soldiers for mass and having them sing the opening hymn. After their tired efforts, he would often retort, 'You're no Mormon Tabernacle Choir,' " Huntsman said.
Listecki thanked the choir and orchestra for their values, and he also approached the honor of guest conducting with humor for the audience.
"He told us how much he appreciated us, not just musically but for what we stood for, noting how our church and the Roman Catholic Church stood together on so many social and moral issues," Huntsman said. "At the end of the concert, when it came time for him to 'conduct' our encore, he was particularly humorous. Before he began, he crossed himself and placed his hands together in a position of prayer, looking up to heaven as if asking for help. Then, when he had successfully conducted the number, he dropped to one knee and 'Tebow-ed,' flexing his arm and bringing his fist to his forehead in a pose of triumphant thanks. It seemed that we had again made another influential friend for the church."
Madison, Wis.
The choir and orchestra performed in Madison, Wis., on their seventh day on tour. The Overture Center served as the concert hall venue that overlooked the state capitol dome. Retired high school choir and band teacher Ron Rockow guest conducted the choir. It was the first time a guest conductor was a high school music teacher.
"This is the highlight of my career," Rockow said in an interview with Church News after a rehearsal. "[They] were very responsive. There was not one eye that wasn't on me."
Jonathan Gochberg, a bass in the choir, is a Madison native and had Roccow as his choir teacher.
"He's had a huge impact on my life [and] I have him to thank for my love of music," Gochberg said in an interview.
At the dress rehearsal, Rockow and Gochberg had time to catch up on the past 39 years since they had last seen each other.
Minneapolis, Minn.
The choir and orchestra ended their tour in Minneapolis, Minn., a city that prides itself in musical appreciation and talent.
"The concert was perfect. Brian Newhouse did a marvelous job not only introducing the choir and orchestra, but introducing Minnesota to us," said Nancy Pratt, an alto member of the choir and Minnesota native, on the Choir's website. "Mack Wilberg had reminded us again that of all of our audiences, this was our most discerning, but I think Brian's invitation for the audience to welcome us in four-part harmony really brought the message home to my Utah family. Minnesota sang a beautiful "Welcome Back" and made me proud. The women around me sat a little taller, and my neighbor marveled, 'He asked for an E and they knew; they sang it!' A Minnesota audience is no ordinary audience!"
Black River Falls, Wis.
One their last tour day, the choir sang at the Trail of Honor Park in Black River Falls, Wis. Near the mills, Latter-day Saints harvested lumber and floated it down the Black River to Nauvoo, Ill. The Mormon Tabernacle Choir paid for and donated a historical marker for the location.
"The sacrifices of these logging pioneers are not well-known, even among church members," choir president Ron Jarrett told Mormon Newsroom. "We wanted to honor these unsung heroes."
Abby Stevens is an intern for the DeseretNews.com Faith and Family sections. She is a recent graduate of Brigham Young University–Idaho. Contact Abby at [email protected].