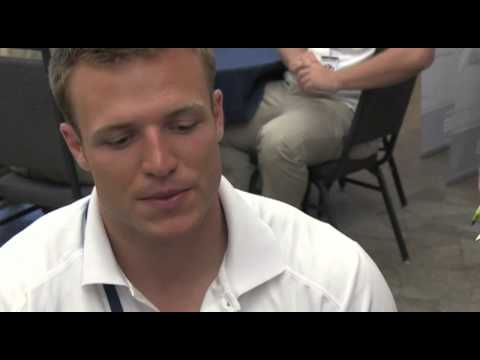 View 9 Items

It was evident that Taysom had qualities that would make him a starting quarterback at any program. He's fast; he's physical; his arm can throw long and he can throw short; he works well with teammates; and he's accurate. When you get into a situation like that then that's your quarterback.

—Robert Anae, BYU Offensive Coordinator
PROVO — BYU football is, or at least was, known for its great quarterbacks.
At the Cougars' annual media day Wednesday, many of the QBs that helped build BYU into what it is today were profiled. Quarterbacks spanning from Gary Sheide to Max Hall were featured, but no signal-caller since Hall has been worthy of being mentioned in the same breath as former BYU stars like Jim McMahon, Ty Detmer or John Beck.
Sophomore Taysom Hill hopes to change that.
Named the team's starting quarterback after spring practices, Hill wasn't featured in any television specials during Wednesday's event but was mentioned widely by his teammates and coaches as the team's offensive leader — someone who can provide the type of play the position has lacked since Hall graduated after the 2009 season.
"It was evident that Taysom had qualities that would make him a starting quarterback at any program," returning BYU offensive coordinator Robert Anae said. "He's fast; he's physical; his arm can throw long and he can throw short; he works well with teammates; and he's accurate. When you get into a situation like that then that's your quarterback."
Hill showed some of the above qualities last season before going down with a knee injury in the closing seconds against Utah State. Since then he's been rehabilitating while trying to learn ways to avoid sustaining long-term injuries in the future.
Injuries took a tremendous toll on Hill's predecessor, Riley Nelson, and perhaps played the biggest role in Nelson's struggles.
To avoid injuries, coaches have taken some precautions and have even placed some restrictions on Hill.
"It's been emphasized daily," the sophomore quarterback said about the precautions. "I had a conversation with coach Anae, and I don't know if he was joking — I hope he was joking — but he said, 'If you don't slide in a game then I'm going to pull you out.' I think that's one of the things I've learned through my injuries is that I need to play smarter."
New quarterbacks coach Jason Beck offered more on what coaches want their young QB to do.
"One of his strengths is his athleticism and his ability to run the ball, so we want to use that," Beck said. "We need to be smart about it. One of the things we talk about is that if you can get a first down or if you can get a touchdown, then you go for it. The other times is when we want to be smart, get out of bounds or get down. If Taysom is one-on-one with the guy, then he can do what he can to get that guy to miss. But when there's two or more guys, that's when he needs to get down, get out of bounds and avoid hits."
The good news for all concerned is that Hill feels very close to being fully healthy. Just prior to media day he took part in a workout where he went full speed and came away feeling great.
"I felt fast and quick and just like I always have," Hill said. "I could play today if I had to."
With his health back and guidelines provided to stay healthy, the Cougars believe the sky is the limit for their starting quarterback.
"He really has all the tools to be an exceptional player," Beck said. "He definitely has some unique abilities that are exciting for us as his coaches and we plan to use those things. It's our job to help him perform at the highest level possible and we're working to do that."
Hill has embraced his role as the team's starting quarterback, which involves unique responsibilities — both on and off the field. The sophomore from Pocatello has done some of those things before, but others are entirely new.
"I'm used to the natural role of a quarterback where everyone looks to you," Hill said. "What's been different is that I have more say in the structure of practice and I've had many conversations with coach Anae about the offense and different guys I'm playing with. You have ownership and I've been able to take ownership of the (offense) and coaches really rely on your feedback."
Despite his new role leading up to the season, Hill's approach to the game remains the same.
"I still do the same things and everything else, but people might see me, recognize me, and ask for a picture and everything else," Hill said. "That's all part of it and it's fun to be recognized and it's nice to have fans that love and support you and want you to succeed. They let you know that when they see you."
Email: [email protected]
Twitter: @BrandonCGurney