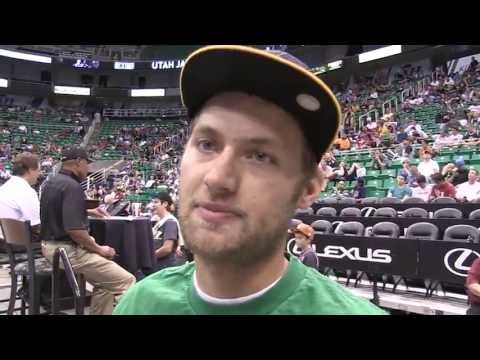 View 28 Items

SALT LAKE CITY — Basketball fans who attended the Utah Jazz draft party at EnergySolutions Arena Thursday evening hoped for some drama.
They were not disappointed.
First came confusion when the Minnesota Timberwolves used their No. 9 pick to select yet another guard in Michigan product Trey Burke.
That bewilderment was almost immediately followed by an eruption of cheers, as word of a Minnesota-to-Utah Burke trade filled the Twitterverse.
"I was shocked (by the Timberwolves' pick)," said basketball fan Greg Lohmeyer, who watched the draft from the front row of the arena.
"I was (shocked) because they already have enough guards," he continued, noting the team currently has six guards on its roster. "They have J.J. Barea. … They have enough guards, so I was thinking, 'Uh ... ' I didn't think the Jazz would get him though."
Although Craig Bolerjack and Ron Boone, the masters of ceremonies for the Jazz draft party, could not confirm the trade per NBA rules, fans were very pleased with the unofficial news as it spread through the arena.
Once the No. 14 pick came around — the lottery spot Utah had drawn — the fan response moved to lackluster as Bolerjack stated that the Jazz would make a selection "for themselves, or someone else."
"That was very unexpected," said Jazz fan Travis Almond of the Burke deal. "Jazz fans say they (Jazz management) never do anything big. The team just did something pretty fantastic."
Almond added that he feels the move shows how committed the Jazz decision-makers are to having a competitive team.
"I think the Jazz management is showing Jazz fans right now that they really are wanting to make the team exciting," he said. "Trey Burke will bring a lot of excitement for the Jazz."
Comment on this story
Burke, a Columbus, Ohio, native, is a 6-foot, 190-pound sophomore who averaged 16.7 points and 5.7 assists in 35.7 minutes per game for the Wolverines. He helped Michigan finish the 2012-13 season with a 31-8 record and a trip to the NCAA championship game, where it lost to Louisville, 82-76.
"I think he'll do well," Lohmeyer said. "That's exactly what the Jazz needed to draft — a point guard."
"He's going to be able to spread the court because he's very fast and he can get around the defense pretty easily," Almond speculated. "I think it's going to be great. I didn't think that it would be a possibility that the Jazz would get Trey Burke."
Sarah Thomas is a graduate of the University of Utah and has been covering sports for the Deseret News since 2008. EMAIL: sthomas@desnews.com