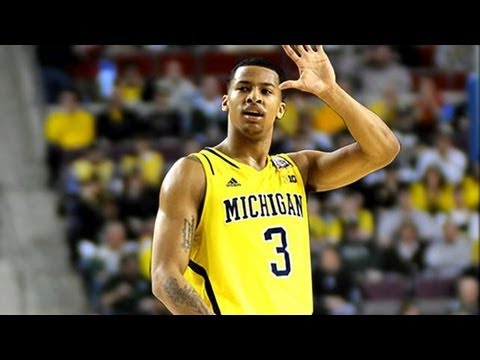 View 30 Items



God don't make mistakes. I feel like this is the place I need to be at to start my career. … It's been a great day for me.

—Trey Burke, Utah Jazz point guard
SALT LAKE CITY — A humorous and honest mistake by the Utah Jazz's new point guard late Thursday night ended up offering a little bit of insight into Trey Burke's personality.
If nothing else, the first of the Jazz's three draft-day additions — French center Rudy Gobert and Brazilian point guard Raul Neto being the others — showed he's a quick learner.
Hours after the Jazz traded the 14th and 21st picks to Minnesota for the highly touted playmaker, the NCAA's national player of the year rattled off a list of Utah players he's looking forward to playing with in the future during a phone interview with media from Brooklyn.
Derrick Favors. Alec Burks. Kyle Korver.
Minutes later, Burke tweeted out a correction. He wasn't giving away a free-agency tidbit. He meant to say Gordon Hayward, not Korver.
"Sorry guys," Burke wrote. "I'm only human."
Burke's willingness to improve is hardly the only thing that enticed Jazz management into trading up to grab him after he slipped to Minnesota at No. 9.
General manager Dennis Lindsey — who also sent the Jazz's No. 46 pick and a "significant amount" of cash to Denver in exchange for their 27th pick, Gobert — gave a list of reasons why the Jazz wanted to be "aggressive" in moving up to get a potential starting point guard.
"We feel really fortunate tonight," Lindsey said.
After all, they grabbed an athletic playmaker whom he said is good in pick-and-roll situations, can shoot, plays with an "edge" and has a "want to lead and be an NBA point guard and a significant one." Coming into Thursday's draft, that's something the Jazz didn't have on their roster. Lindsey credited Jazz coach Tyrone Corbin for pushing Jazz management toward making the decision to trade for Burke and explaining "why Trey fit with the program."
Corbin responded: "It was their wisdom (Lindsey and executive vice president of player personnel Kevin O'Connor) to be in that position to be able to get a guy like Trey Burke."
In an even later move Thursday night, the Jazz picked up yet another point guard. Utah acquired the 6-1 Neto, whom Lindsey called a "pure point," from Atlanta in exchange for the Nets' 2015 second-round pick, which the Jazz previously obtained in the Mehmet Okur trade. Neto was drafted 47th overall by the Hawks.
After dealing with the initial surprise of being picked by a team that has Ricky Rubio, Burke got excited about the prospect of playing in Utah (regardless of Korver's situation).
"God don't make mistakes," Burke said. "I feel like this is the place I need to be at to start my career. … It's been a great day for me."
Burke knows the Jazz have a wide-open situation at point guard, seeing as Mo Williams, Earl Watson and Jamaal Tinsley will all become unrestricted free agents as of July 1.
"I just look forward to going into Utah," said Burke, who admitted he's never been to the Beehive State in his 20 years. "My goal is to come in and start right away. I look forward to coming in and helping the team win."
Whether or not Burke will be the starter to begin the 2013-14 season remains up in the air, Corbin said. The Jazz need to obtain one more point guard — probably a veteran — in the upcoming free-agency period. Mo Williams, Earl Watson and Jamaal Tinsley all hit the market on July 1.
"We'll see," Corbin said when asked about Burke's chances of being the starter. "All the guys know you have to earn minutes on this roster."
Depending on what the Jazz do in free agency, Thursday's moves could be signs the organization is moving into its youth movement. To wit, the Jazz's potential starting lineup in 2013-14 could be something to the effect of Burke, Burks, Hayward, Favors and Enes Kanter — all of whom are 23 years old or younger.
With at least six roster spots available — and up to eight — Lindsey said the Jazz still need to get more shooting and veteran leadership to help the young guys grow.
Overall, the Jazz are quite pleased with the results of this draft. Lindsey said they considered moving up, moving down and moving out of a draft that many experts consider to be lackluster.
"We were looking at getting as many good players as we could," Lindsey said.
And the Jazz believe they ended up with two guys who fall into that category.
Corbin credited Burke for leading Michigan to the NCAA national championship game.
"He's a winner," Corbin said. "He's a true, true competitor. He fits our culture. We're excited to get him here." The day after Utah's season ended in April, Lindsey mentioned multiple times that the organization was willing to do something "bold" to build a championship-contending team for the future. If not bold, these moves showed that the organization is trying to set its future course.
Interestingly, Burke was not one of the 70 players the Jazz brought into Zions Bank Basketball Center since the middle of May for pre-draft workouts.
Burke is a 6-foot, 190-pounder who left Michigan after his sophomore season. In two years, he averaged 16.7 points, 5.7 assists and 3.4 rebounds. He was a 44.7-percent shooter in catch-and-shoot situations, and his pull-up jump shot has drawn comparisons with NBA Rookie of the Year Damian Lillard.
Gobert, who did attend one of the tryout sessions in Utah, averaged 8.3 points and 5.2 rebounds for Cholet this past season. The 7-foot-1 big man has an impressive 7-foot-9 wingspan.
The center, who turned 21 on Wednesday, played for the French U-20 national team in 2011-12. Corbin said the Jazz like his "size and athletic ability."
Lindsey said the Jazz hope to have him play this season, but there is a buyout with his French team and he'd have to receive official clearance from FIBA.
It's not known if that will happen before the Jazz participate in their Orlando Pro Summer League the second week of July. Corbin said that Burke, Burks and Kevin Murphy will be among Utah's players on the summer league team.
The Jazz picked UCLA small forward Shabazz Muhammad at No. 14 and Senegal center Gorgui Dieng at 21 for the T-Wolves. They then drafted Virginia Tech guard Erick Green at No. 46 for Denver.
By drafting a big man, it seems more likely that the Jazz would not pursue re-signing both center Al Jefferson and power forward Paul Millsap, although it's not out of the realm of possibility that Utah would want to bring one back.
They'll turn their full attention on free agency now that they have this draft behind them — and a potential starting point guard on the roster.
"You get a guy like Trey," Corbin said, "and it certainly puts you in a position you weren't in before the draft."
DeseretNews.com senior web sports writer Matt Petersen contributed to this report.