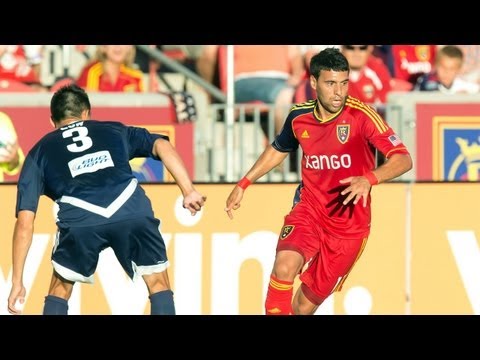 View 26 Items



Happy that we're moving on, but a difficult, difficult challenge in front of us.

—RSL coach Jason Kreis
SANDY — Just as Jason Kreis hoped, Real Salt Lake didn't leave anything to chance Wednesday night.
Facing yet another lower-division foe in the U.S. Open Cup — with the previous two matches ending in OT victories — RSL patiently took care of business against the defensive-minded Carolina RailHawks for the 3-0 victory at Rio Tinto Stadium.
The victory secured Real Salt Lake's first U.S. Open Cup semifinal berth in franchise history, having advanced to the quarterfinals on two previous occasions.
Unlikely scorers Tony Beltran and Chris Wingert, RSL's fullbacks, provided the early scoring — just the second career goal for each — while Alvaro Saborio tacked on a late goal to cap an impressive seven-game homestand in which RSL finished with a 6-0-1 record.
"We're two games away from a trophy and winning another trophy for this club and we're two games away from being back in the Champions League, and so that's what we want," said Beltran.
Real Salt Lake will next host Portland — a 3-2 winner over Dallas — on Aug. 7. The match will be Will Johnson's first at Rio Tinto Stadium in a visiting uniform since being traded after last season. The two teams coincidentally enough are tied for the most points in MLS at this point.
"Happy that we're moving on, but a difficult, difficult challenge in front of us," said Kreis.
Kreis put his best foot forward for the match, only making one change to the starting lineup that beat the Seattle Sounders 2-0 last Saturday. That lone change involved Josh Saunders starting in place of goalkeeper Nick Rimando.
The RailHawks, meanwhile, rested three of their best players, preferring to save their legs for a very important NASL match Saturday. Without the trio, Carolina's tactics were pretty simple — drop virtually everyone behind the ball and hope for the best.
Early on, Kreis thought his players were too patient in their attack as the RailHawks proved to be a difficult team to break down. The unlikeliest of RSL players eventually did in the 35th minute on a shot from distance.
Tony Beltran uncorked a 25-yard shot that slipped just inside the far past for his second career goal to give Real Salt Lake the 1-0 lead.
Javier Morales and Saborio unknowingly created the space that led to Beltran's goal. The two tried a quick combination play in the box, but after the ball got stuck between Saborio's feet, he quickly knocked it out to Beltran. With a little bit of space, Beltran decided to have a go.
"I think I heard (Kyle Beckerman) say, 'Hit it,' so I just decided to rip it, and yeah, it went far post into the goal," said Beltran.
Not to be outdone, fellow outside back Wingert got in on the scoring in the second half too. His 25-yard shot in the 51st minute took a deflection and skipped off the gloves of Carolina 'keeper Akira Fitzgerald and into the back of the net for the 2-0 lead.
"It was good for the team to get one early in the second half," said Wingert.
Saborio capped the scoring in the 86th minute as he calmly headed home a cross from second-half substitute Olmes Garcia.
1
comment on this story
With the win, Real Salt Lake improved to 9-1-1 over all competitions in the past 11 matches, which includes a staggering 30-11 goal differential.
Carolina rarely threatened with just two shots on goal, both in stoppage time.
RSL will quickly turn its attention back to MLS play as it travels to Toronto on Thursday for an 11 a.m. MDT match this Saturday. The team will fly on a charter flight to Toronto, which Kreis said should make a big difference in getting the players ready with the short turnaround.