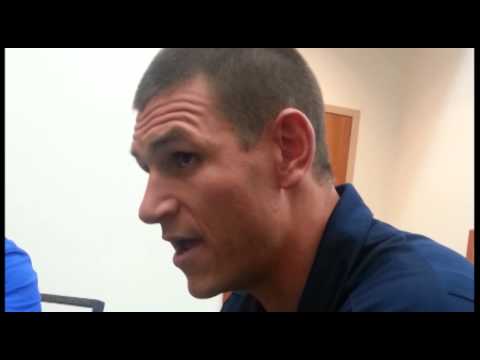 View 16 Items


We have a huge number of Cougar football fans in Southern California who will love having a chance to see their team play twice against one of the best programs in all of college football. Cougar nation will also be excited to have USC come to Provo

—Tom Holmoe, BYU athletic director
PROVO — Going into this year's BYU football media day, some fans and media members speculated that the annual event might produce some significant announcements.
It did.
Three of them.
At their media day Wednesday morning inside the BYU Broadcasting Center, the Cougars announced a three-game series with USC, a new affiliation with the Poinsettia Bowl, and a new three-year contract extension for head coach Bronco Mendenhall.
First up was the scheduling announcement that BYU will face USC in a three-game series beginning in 2019. The Trojans will visit LaVell Edwards Stadium on Sept. 14 of that year and then host two games against the Cougars over Thanksgiving weekend in 2021 and 2023.
"We have a huge number of Cougar football fans in Southern California who will love having a chance to see their team play twice against one of the best programs in all of college football," said BYU athletic director Tom Holmoe. "Cougar nation will also be excited to have USC come to Provo."
The two teams have met just twice in the past, with USC taking both contests during the Trojans' Reggie Bush-Matt Leinart era in the mid-2000s.
The second big announcement was an affiliation with the Poinsettia Bowl for 2015 and a second year to be announced at a later date.
"We had a fantastic experience at the Poinsettia Bowl in December and are excited to return in 2015," said Holmoe. "San Diego has hosted some of the great football moments in our program's history, and I'm excited for our large fan base in Southern California to have other opportunities to see us play in person."
BYU will play in the San Diego bowl game in those years if bowl eligible and not selected to play in the College Football Playoff. The Poinsettia Bowl is currently in discussions with the Mountain West Conference to continue its partnership through the 2019 game. The MWC has partnered with the Poinsettia Bowl since its inception in 2005.
The third, and maybe most significant announcement, was a contract extension for Mendenhall. The Cougar head coach signed a deal through the 2016 season.
"I am thrilled to have Bronco signed as our head football coach through the 2016 season," said Holmoe. "Over the past eight seasons, his leadership has guided our football program back to national prominence through top-25 rankings, bowl victories, All-American athletes and overall excitement at LaVell Edwards Stadium. I look forward to what the next four years will bring with the new era of BYU football."
"BYU is a special place and this is a special time," Mendenhall added. "I'm excited to build on the success of our program over past eight years, and I think there's much more that we can accomplish at BYU."
What BYU can accomplish this coming season as an independent was much of the focus during Wednesday's event. Players and coaches are typically optimistic entering fall camp, and that was again the case for BYU this year. The Cougars are emboldened by past successes, a new offensive coaching staff and possibly the most competitive schedule in school history.
The Cougars will play an unusually strong November schedule that includes road games against Wisconsin, Notre Dame and Nevada.
After consecutive years of finishing out the regular season against the dregs of the FBS and even FCS teams, BYU players couldn't be more excited for this year's concluding slate.
"It will help propel us into the postseason," said linebacker Kyle Van Noy about this year's November schedule. "I think the two byes we have will get us rested for those games this year and it will be a cool experience to travel to Wisconsin and to Notre Dame this year."
"I think the November schedules the last two years have maybe caused us to plateau and to be complacent," added defensive lineman Eathyn Manumaleuna. "I think that's what maybe happened with (the) San Jose State (loss) last year, but with the competition this year it will keep us on our toes and give us more motive."
One of the most important games this season will be a matchup against Utah on Sept. 21. Recent failures against the Utes, coupled with the fact that the rivalry game takes a two-year hiatus after this year, isn't lost on several players.
"I think this one is the biggest game out of (my) last three," Van Noy said. "I don't say that because I'm 0-3 and want to beat them, but we don't play them for two years and maybe for (longer). ... I think whoever wins this game gets to talk trash and say they're the one-up until the next time they play. It's always a huge game and it's one of the (most fun.) They don't like us and we don't like them."
Twitter: @BrandonCGurney