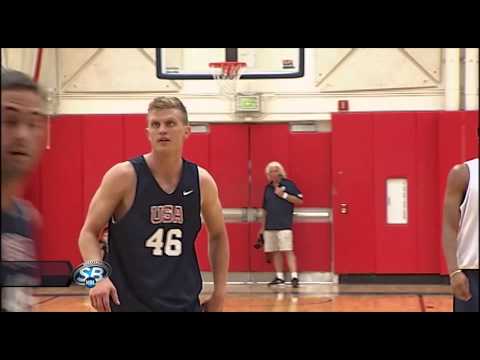 View 13 Items

In starting to eyeball the team's composition, you'd have to think the coaches will have to strongly consider taking both Haws and Louisville's Luke Hancock as they are really shy on good perimeter shooters at the guard spots.

—Sports Illustrated writer Andy Glockner
BYU guard Tyler Haws has made the 16-man cut for team USA at the World University Games, his father, Marty Haws, announced.
The USA Basketball Men's Junior National Team Committee invited Tyler Haws to participate in the U.S. training camp June 24-30 at the U.S. Olympic Training Center in Colorado Springs, Colo. Today, the original 29-man roster was cut down to 16 players, and Haws remained on the roster through the first cut.
If Haws is to participate in the 2013 World University Games in Russia, he will have to survive another cut to make the final 12-man roster.
However, Haws has made a name for himself thus far in the training camp. Sports Illustrated writer Andy Glockner included this note of Haws' play in his World University Games tryout update Tuesday night:
"BYU's Tyler Haws knocked down a couple of shots and looks pretty comfortable at that depth. In starting to eyeball the team's composition, you'd have to think the coaches will have to strongly consider taking both Haws and Louisville's Luke Hancock as they are really shy on good perimeter shooters at the guard spots. It may turn out that those two and Creighton's Doug McDermott are the best 3-point shooters on the team."
Haws' achievement and representation for BYU is not going unnoticed on Twitter, either.
Whitney O'Bannon is a new media sports writer for the Deseret News. Follow on Twitter at @whitney_oban.