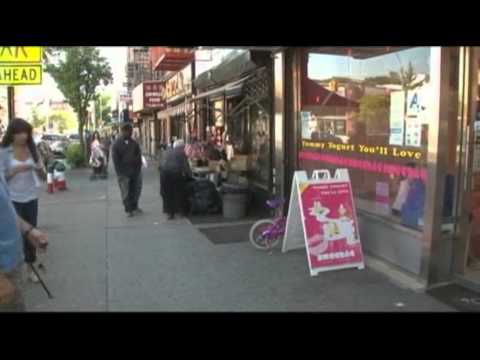 View 6 Items


Two toddlers are safe after falling out of windows into the arms of strangers.
Thursday, a child in Brooklyn, N.Y., and another child in Ninghai, China, fell out of windows and were caught by strangers below.
In Brooklyn, the daughter of former New York Yankees manager Joe Torre caught a baby boy who had tumbled off a second-floor fire escape. Cristina Torre was having coffee at a local cupcake shop when she and others saw the 1-year-old boy dangling next door.
"I'm talking to him saying, 'Don't come down, stay there,' " she told the New York Daily News. "He helped himself with his arms. He was dangling. I knew he would be flipping very soon."
She said the child "literally landed in my arms."
"I didn't really know what was going to happen. … You just move into action — you don't really think about it."
Deliverymen in Ninghai, in China's Zhejiang province, heard a little girl's cries from the top of a five-story building while her legs dangled out a window.
The men managed to break the 2-year-old child's fall with their outstretched arms. At least two of the men suffered injuries, but the child only had a scrape on her face.
The parents of the little girl said they had left the child at home while she was sleeping, and when she awoke she climbed onto the windowsill.
According to a study published in 2011, the number of children treated in U.S. emergency departments for falls from windows approached 100,000 between 1990 and 2008.
Boys were involved in more falls from windows than girls were. In addition, younger children (ages 0-4 years) had two-thirds of the injuries reported for those ages 0-17. The injury rate was highest at age 2.
"These are kids who don't recognize danger — they're curious, they want to explore and when they see an open window, they are going to investigate," Dr. Gary A. Smith, the study's author and director of the Center for Injury Research and Policy at Nationwide Children's Hospital, told CNN. "Kids at that age tend to be top heavy. Their center of gravity is up near their chest and so as they lean out of the window to see what's going on, they'll topple."
The National Safety Council suggests the following to prevent children from falling out of windows:
Keep your windows closed and locked when children are around. When opening windows for ventilation, open windows that a child cannot reach.
Do not rely on insect screens to prevent a fall. Insect screens are designed to provide ventilation while keeping insects out, not to prevent a child's fall from a window.
Set and enforce rules about keeping children's play away from windows or patio doors. Falling through glass can be fatal or cause serious injury.
Keep furniture, or anything children can climb, away from windows. Children may use such objects as a climbing aid.
If you have young children in your home and are considering installing window guards or window fall prevention devices, be aware that the window guards you install must have a release mechanism so that they can be opened for escape in a fire emergency. Remember that time is critical when escaping a fire.
Consult your local fire department or building code official to determine proper window guard placement.
The degree of injury suffered from a window fall can be affected by the surface on which the victim falls. Shrubs and soft edging like wood chips or grass beneath windows may lessen an impact if a fall does occur.
Email: [email protected]