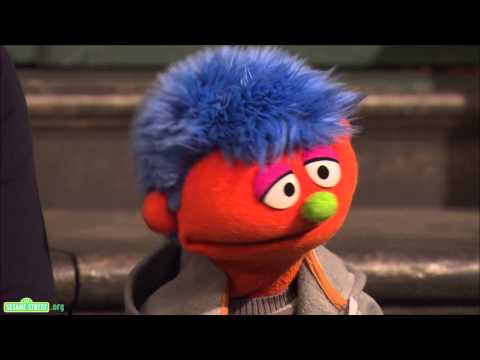 View 2 Items

"Sesame Street," the children's show that began running in 1969, has often addressed challenges children face in today's world. Last week the show aired an episode titled "Little Children, Big Challenges: Incarceration," which introduced the first muppet to have a parent in jail.
"Incarcerated is when someone breaks the law — a grown up rule — and then they have to go to jail or prison," Sofia, a human character on Sesame Street, explained to two other muppet characters in the episode.
The show is targeted toward young children, many of whom face the hardships of incarceration firsthand. According to a study done by Pew Charitable Trusts, one in every 28 American children (or 3.6 percent) have a parent incarcerated, which is higher than children with a deployed parent. The report says that number is up from one in 125 from 25 years ago.
Some believe that children feel more comfortable hearing tough news from Sesame Street's muppets.
"Coming from a muppet, it's almost another child telling their story to children," said Jeanette Betancourt, V.P. of Outreach and Educational Practices, Sesame Workshop, in an interview with TODAY.
Others saw the introduction of incarceration on the children's show a sad reflection of the state of the country, not Sesame Street itself.
"Congratulations, America, on making it almost normal to have a parent in prison or jail," said Mike Riggs, a blogger for Reason Magazine.
1
comment on this story
Sesame Street's incarceration episode aims to teach children how to cope with their range of emotions when a parent is in jail. The show's website includes "Tool Kits" for parents, which are multimedia platforms with video clips, apps, tips and resources for how to talk to a child about difficult topics.
The Tool Kit website reads, "Have you ever wished that your child came with an instruction manual? Sesame Street Tool Kits are the next best things. They provide opportunities to build closeness and confidence, make learning fun, and keep your child's world safe and secure."
In addition to incarceration, other Sesame Street Tool Kit topics include divorce, military deployment, financially tight times and coping with the aftermath of a natural disaster.
Abby Stevens is an intern for the DeseretNews.com Faith and Family sections. She is a recent graduate of Brigham Young University–Idaho. Contact Abby at astevens@deseretdigital.com.