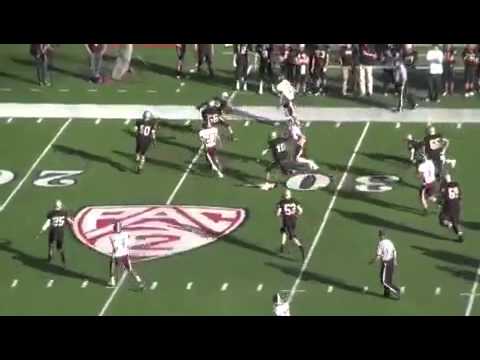 View 40 Items
Buy photos

I had no idea I was going to commit today. I just came out here for a camp. I planned on doing it after the season. But I just loved it that much.

—Austin Kafentzis, Jordan High quarterback
MADISON, Wis. — Athletes often rely on their instincts when making tough decisions.
Utah's hottest prep football recruit said he did just that when he made an unexpected decision to offer a verbal commitment to the University of Wisconsin Tuesday afternoon.
"I had no idea I was going to commit today," said Jordan High quarterback Austin Kafentzis, the reigning Deseret News Mr. Football who won't graduate until 2015. "I just came out here for a camp. I planned on doing it after the season. But I just loved it that much."
Kafentzis had just finished a morning workout with other high school players and Wisconsin coaches when Badger offensive coordinator Andy Ludwig, a former offensive coordinator at Utah, suggested they break down some film during the break between morning and afternoon practice sessions.
"I was standing in this waiting area filled with all of their trophies with my dad, and I said, 'I really want to commit right now,'" said Kafentzis, who called his high school coach, Eric Kjar, to discuss his decision with him. "My dad told me I had to do it myself, so I asked coach Ludwig if coach (Gary) Andersen could come in and meet with us."
When Andersen, who left Utah State University last December to take over the Badger program, arrived, Kafentzis offered him his commitment.
"I just had this gut feeling," he said, "that whether it was now or in two months or in a year, I feel like this is the place I want to play. It's just one of those things where you go with what you feel."
Kafentzis said he realizes he may be giving up other opportunities, but he loves the rich history of the Big Ten and the atmosphere on campus and in Madison.
"Everyone has been so great," he said. "I came here for a spring game, but it's really different being able to play on the field, talking to Gary and Ludwig. It was an eye-opening experience getting the whole package. It just felt like home. Everyone always says you should go where you feel comfortable on and off the field."
The 2012 Mr. Football winner led the Beetdiggers to a 5A state title last year with 2,860 yards passing and 31 touchdowns. He also rushed for 1,689 yards and scored 23 touchdowns on the ground. Kafentzis has accumulated 6,048 yards passing in two years, while rushing for 3,066 yards in the same time.
His efforts earned him national attention, both from recruiting scouts and college coaches. He also earned the 2011 MaxPreps National Freshman of the Year award and was the 2012 Utah Gatorade Player of the Year.
Kafentzis' commitment to the Badgers follows that of East High School star running back Ula Tolutau.
Kafentzis said Andersen told him he sees him as a quarterback despite playing defensive back at times and despite speculation by some scouting services that his athletic ability and speed will mean colleges will want to see him change positions.
"He told me he thinks I'm a quarterback in college," said Kafentzis. "And I really do believe that I can do that."
Kafentzis said he hadn't felt pressured before making the decision, but admitted he felt relieved in the afternoon practice session.
"They said I didn't have to throw, but I wanted to play," he said. "It's another day of football. ... And I did feel way more comfortable, like something came off my shoulders and I could just play."
He and his father, who is Jordan High's defensive coordinator, celebrated with dinner and then planned to drive to Milwaukee before flying home to Utah on Wednesday morning.
"It's been crazy, but I can't wait to come home and start working toward another state title," he said. "I'm happy I committed, but I want to get back to work."
Email: [email protected]