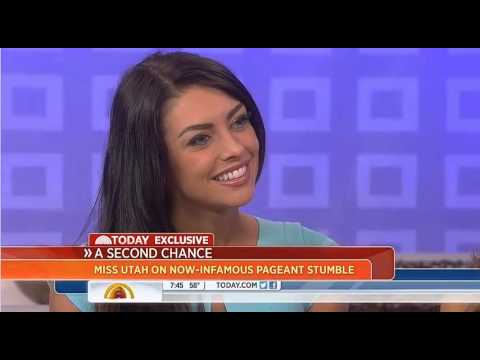 View 73 Items

Miss Utah USA, Marissa Powell, has quickly garnered national attention where attention is never wanted. But on Tuesday morning, Powell was given a second chance to answer the question that caught her off guard in the Miss USA pageant this past Sunday.
Powell was the first contestant to participate in the interview portion, and was asked a question that has since been challenged as to whether it's even answerable. The question was asked by "Real Housewives of Atlanta" star NeNe Leakes:
"A recent report shows that in 40 percent of American families with children, women are the primary earners, yet they continue to earn less than men. What does this say about society?"
Powell originally responded, "I think we can relate this back to education, and how we are … continuing to try to strive to [long pause] figure out how to create jobs right now.
"That is the biggest problem. And I think, especially the men are … um … seen as the leaders of this, and so we need to try to figure out how to create education better so we can solve this problem. Thank you."
But Tuesday morning, Matt Lauer appeared with Miss Connecticut USA Erin Brady, who won the competition, along with Powell during "The Today Show" to give Powell another chance.
When asked the question for the second time, Powell was able to give the response she wished she could have given.
"This is not OK,'" she said on the show. "It needs to be equal pay for equal work. It's hard enough already to earn a living, and it shouldn't be harder just because you're a woman."
When asked if she had wished she could have "dug a hole and crawled into it" after her response, Powell agreed.
"I was so excited, and I was so nervous, and I got up to this top-five question," Powell said. "I was the first one. I got up, and the question was a little bit confusing to me, and I just started speaking without really processing."