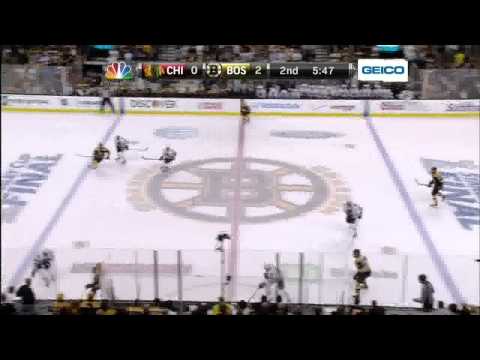 View 32 Items


Sometimes in sports, stats don't tell the real story of the game. The numbers can be misleading, and not indicative of how the game was played and who the winner was.
Not in Game 3 of the Stanley Cup Final.
Boston had more shots (35-28), more hits (31-25), more takeaways (6-2) and won 24 more faceoffs than the Chicago Blackhawks, and thus claimed a 2-1 series lead.
If the Bruins can win two of the next four games, they'll claim their second Stanley Cup in three seasons.
"Big win," Boston goaltender Tuukka Rask told Pierre McGuire of the NBC Sports Network. "We can enjoy this and just focus on a couple of things tomorrow and be better and get back at it Wednesday."
Rask, who had 28 saves to collect his third shutout of the playoffs, was thankful to not have to play a third straight overtime game.
"We'll take a regulation win, for sure," Rask said.
Daniel Paille's opening goal 2:13 into the second period proved to be his second straight game-winner. Just like his overtime snipe in Game 2, the Blackhawks had a chance to clear the puck, but Dave Bolland had his stick lifted by Paille before he could clear it. Paille snatched the puck away and fired it past Chicago goalie Corey Crawford to put the B's on the board.
Patrice Bergeron added some insurance for the Bruins when he scored a power play goal off a pretty pass across the crease by Jaromir Jagr at the 14:05 mark of the second. It came just as the first penalty of a 5-on-3 expired, but Bolland — who took three penalties on the night — wasn't back in the play yet after jumping out of the box.
With his assist on Bergeron's goal, Jagr moved into 5th place on the NHL all-time career playoff scoring list, passing Paul Coffey. He now has 197 points in 199 career playoff games.
"That was a perfect pass by Jags [Jagr] there," Bergeron told John Forslund of the NHL Network. "I was just trying to get open. I knew it was coming, but I kind of hesitated because I didn't think it was going to come that fast. Thankfully, I put it in."
The defense the Bruins put on the Hawks was suffocating. Chicago went 0-5 on the power play, and they're now 0-11 for the series.
"They box you out," Blackhawks coach Joel Quenneville told reporters after his team's second straight loss. "They've got big bodies. They blocked shots. I think we had some chances to get some pucks through the net, we didn't. Our entries weren't great. That's something you want to look at."
Quenneville was without star forward Marian Hossa, who was a late scratch after taking warm-ups. Quenneville said Hossa has an upper-body injury and is day-to-day.
Hossa's absence only added to the continuing offensive struggles Chicago has had the last two games.
"Tonight I thought we made it rather easy on him [Rask] as far as traffic and finding and seeing pucks," Quenneville said. I think we've got to be better at going to the net in non-puck areas."
Even when Chicago has gotten chances, Rask — who was the backup when Boston won the Cup in 2011 — has stood tall.
"He's been focused since day one of the playoffs," Boston coach Claude Julien told reporters. "You watch him on off days, you watch him, he's quiet, focused, calm. Right now all his energy is put towards his game, how he needs to get his rest, relax. When the game starts, he's a focused individual.
Boston will look to take a commanding 3-1 series lead Wednesday night. The game will be televised nationally at 6 p.m. MDT on NBC.
Michael Smith (@smithmichael8) is an intern in the news section of DeseretNews.com. A 2013 graduate of the University of Utah, he will be attending Northwestern's Medill School of Journalism in the fall.