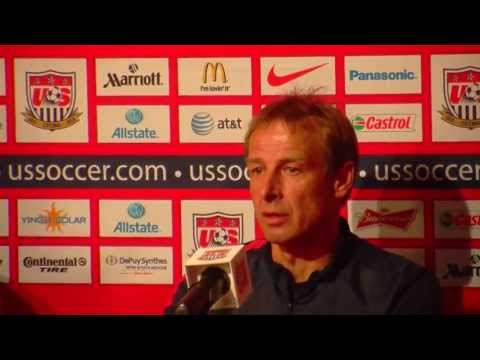 View 16 Items

World Cup qualifying is never easy, there are twists and turns along the way. So for us, losing the first game in Honduras, certainly we weren't happy about it, but we didn't let it throw us for a loop.

—USMNT midfielder Michael Bradley
SANDY — The last time the U.S. men's national team walked off the field against Honduras, it had just fallen in the first game of the CONCACAF hexagonal round of World Cup qualifying.
There were plenty of questions surrounding the direction of the team under coach Jurgen Klinsmann and whether or not his style and group of players were going to be good enough to get the team through to Brazil and the 2014 World Cup.
Flash forward to the present, and the scenario is completely different. The Americans haven't lost in qualifying since that Feb. 6 defeat, and heading into a rematch against Honduras at sold-out Rio Tinto Stadium Tuesday night, they sit atop the qualifying standings at the midway point.
"World Cup qualifying is never easy," said midfielder Michael Bradley. "There are twists and turns along the way. So for us, losing the first game in Honduras, certainly we weren't happy about it, but we didn't let it throw us for a loop. We kept our focus and we knew that there was still a lot of games left to be played. I think in that way, we've done a really good job responding."
It is funny what a couple of wins can do. Even just a couple of weeks ago, fans were still wondering if Klinsmann's style and philosophy were working after the U.S. had mixed results in two friendlies against Belgium and Germany leading up to the current round of qualifying. But after the U.S. posted a 2-1 win over Jamaica on June 7 and beat Panama 2-0 four days later, it is hard to argue with the results.
This is now firmly Klinsmann's team.
"Any coach who comes in is going to try to change the way the team works from top to bottom," said Bradley of the change since Klinsmann took over as U.S. coach for his father, Bob Bradley, back in July 2011. "It's normal that when a new coach comes in, that there is a period where he is trying to understand from players who he can count on, who he wants on the field in important moments and then vice-versa; the players are trying to understand exactly from him what he wants and the way he wants to work. It's not just one thing that you can say, 'This is what he's come in and this is what he wants.' It's his whole way of working, his whole mentality, his whole personality towards the team.
"As we've grown, as we've improved, you are starting to see some of the progress come from that."
Klinsmann feels much of the credit for the positive results should go to his veterans that form what he called the "spine" of the team in Bradley, goalkeeper Tim Howard, midfielder Jermaine Jones and Clint Dempsey. (The U.S. found out Monday that Jones will be available Tuesday after missing the Panama game because of a concussion that forced him to leave the match against Jamaica.) In particular, Klinsmann gives plenty of credit to Howard for keeping a relatively young and inexperienced back line organized and playing well.
"Tim's influence on that back line is tremendously important — his experience, his way of calmly talking to them, guiding them. … We are very happy to have Tim as our No. 1. He is one of the top-five (goalkeepers) in the world," said Klinsmann.
As for facing Honduras again — with the possibility of a win nearly mathematically locking up a berth in the World Cup — the coach has stressed the importance of finishing off this cycle of qualifying with the full nine points.
"It's a big one. As I mentioned a couple days ago, it's a six-pointer. It's huge," said Klinsmann. "I think the (U.S.) team did very well in the previous two games, and (we) need now to add those three points. It's a must-win. It's a game that allows you afterward to look at the final four games in a better way.
"It still sits a bit in my stomach what happened in February, where we were not able to adjust to the climate and circumstances, simple as that, in too short a time. Now, we have the opportunity to clean that thing."
The U.S. has every reason to think it should win the rematch. After all, the team hasn't lost a qualifier on U.S. soil since 2001, going 22-0-2 in that run. Honduras also will not be at full strength, with a couple of first 11 starters suspended because of yellow cards and a couple of others out from injuries. But that's not to say the Americans are looking past their opponent.
"They are going to be missing some important players, but we know from experience with our team that at times when you're missing certain players, the next guys that step in are motivated and do a very good job," said Bradley. "We have a lot of respect for Honduras. We know it will be a difficult game and we are just trying to prepare ourselves the best that we can."
Tuesday's big game has sold out for the second time. After selling out the original allotment of tickets in less than two days, an additional amount was made available over the weekend. Those tickets have been sold and 20,250 fans are expected to be on hand to see if Klinsmann and his players can keep up their recent run of success.
Tailgate party will kick off U.S.-Honduras festivities
U.S. Soccer will host an official pre-game tailgate party at 5 p.m. on the east lawn outside Rio Tinto Stadium. The cost is $50 and includes all-you-can-eat food, soft drinks and water.
In the same area, U.S. Soccer will be conducting a fan fest that will include sponsor activation and a 30-by-18-foot TV that will show recent U.S. MNT highlights.
Upon entering the stadium, each fan will receive a free, special edition game-specific scarf to wear during the match. The scarf is one of a five-part series being provided by U.S. Soccer throughout the final round of 2014 World Cup qualifying. Each scarf includes specific lyrics from "The Star-Spangled Banner." The USA-Honduras scarf includes the lyrics: "Proof Through the Night."
EMAIL: [email protected]
TWITTER: blackend84047