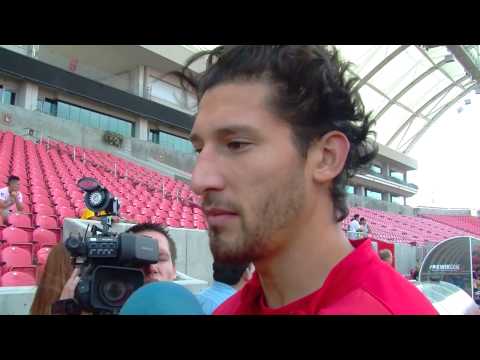 View 8 Items

We've played here before. We know the people here love soccer; they love supporting our team. We hope from the time we step on the field, we feel their support pushing us on and really, that can make such a difference.

—Michael Bradley
SANDY — Four years ago, the U.S. men's national team played a World Cup qualifier at Rio Tinto Stadium, beating El Salvador 2-1 on goals from Jozy Altidore and Clint Dempsey. Tuesday, the guys wearing red, white and blue take on Honduras in another qualifier at the same building.
They say they are happy to be back playing in the Beehive State and hope to get the same type of atmosphere and support they received during their last visit.
"They were telling me before it sold out in two days," said midfielder Michael Bradley, who started in the game back in 2009. "We've played here before. We know the people here love soccer; they love supporting our team. We hope from the time we step on the field, we feel their support pushing us on and really, that can make such a difference."
There is no doubt soccer is growing around the country and in Utah. While many adults now say they played soccer growing up, only recently have those same people taken a keen interest in following the sport — particularly on a national stage.
"I expect a good crowd. It is good that we are able to sell out some of our own home stadiums now," said 34-year-old goalkeeper Tim Howard, who is old enough to remember times when games on home soil didn't necessarily mean most of the fans would be rooting for the Americans. "We are excited to be here. We know the venue well, so we are looking forward to hopefully a raucous crowd that plays its part. We've had that so far in D.C. and Seattle. It certainly helps when you have a strong support behind you."
The U.S. currently sits on top of the six-team CONCACAF qualifying group with 10 points, followed by Costa Rica with eight and Mexico with eight, but the U.S. has a game in hand. Honduras is currently fourth with seven points, followed by Panama (six) and Jamaica (two).
SHIFTING AROUND: Fabian Johnson is getting used to changing positions. The versatile, German-born team member has started games all over for the Americans. He started in the midfield the last two games, but he has also started at both outside defensive positions. With DaMarcus Beasley suspended because of yellow-card accumulation, there is a high probability Johnson will be shifted into the left back position manned by Beasley in the previous two games. Johnson said it is not that big of a deal for him.
"I don't think it is that tough," he said prior to training Saturday. "It is just a different role I have to play. I've played it a lot of times, so it won't make any difference to the team or to me."
OUT OF SITE, OUT OF MIND: The U.S. has suffered only one loss in this round of qualifying, a 2-1 defeat at Honduras back in February. A big reason for the loss was a ridiculous bicycle-kick goal by Juan Carlos Garcia. But Howard said that he hasn't really thought all that much about the amazing goal or about the loss in general.
"I don't think what happened in February is going to inspire us," Howard said. "We are in good form based on what we are doing now. I don't know about goals, I just try to keep them out. There is not much inspiration to it.
"Am I more aware of a bicycle kick? No, probably not."
Michael Black is a writer, editor and page designer at the Deseret News in Salt Lake City. He has been involved in the publication of the paper for the last 10 years with an emphasis in sports. Email: mblack@deseretnews.com Twitter: blackend84047