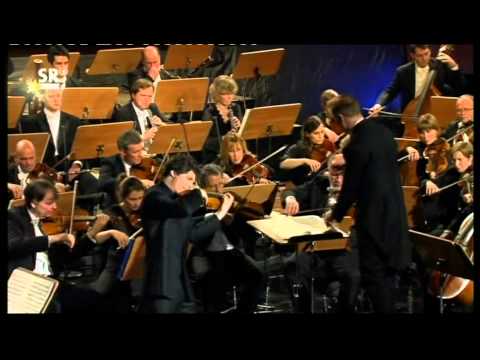 View 6 Items

Last week in Washington, D.C., I attended a symphony at the Kennedy Center for the Performing Arts. My vantage point from the fifth row, just to the left when facing the podium, was the perfect spot to observe the guest violinist, Augustin Hadelich, perform Antonín Dvořák's violin concerto in A minor, Op. 53.
The program promised great things, praising the "skill and artistry" of Hadelich and his "place in the top echelon of young violinists."
I had not seen him perform before and noticed when he took the stage that at some point in his life he had been badly burned on his face and neck. He played with exquisite intensity, deep emotion and the technical facility for which he is renowned — and his performance was captivating. At the conclusion of the piece, the audience rose to its feet to give him a standing ovation and continued to thunder its approval through an encore performance and several curtain calls.
I was struck by his obvious ability to overcome adversity, and on the ride home meditated on the benefits of adversity in an individual's life.
As humans we generally prefer not to suffer. No surprise that most of us, if given the choice, would choose a life of ease and comfort. However, although adversity is rarely something anyone seeks, it seems to have the capacity, if the individual responds correctly, to propel us to great heights. It also appears integral to the process of maturing, gaining self-confidence and the necessary mortal education that prepares us for the next phase of our existence.
A good deal of Elder Neal A. Maxwell's teachings and writings deal with adversity. He coined the term "wintry doctrine" to describe what appears to be the necessity of adversity in the life of each person who determines to be a disciple of Jesus Christ. In 1996 he spoke at a funeral of a young father and explained, "There are in the gospel warm and cuddly doctrines, and then there are some that are just outright wintry doctrines. One of them, frankly, is that we cannot approach (real) consecration without passing through appropriate clinical experiences, (because we don't achieve consecration) in the abstract. Sometimes (therefore,) the best people have the worst experiences, because they are the most ready to learn."
After all that the Prophet Joseph Smith endured — and few suffered as Joseph did during his life — he still landed in Liberty Jail. One almost has to ask oneself, what more could Joseph possibly have needed to learn about discipleship?
The Prophet was in Liberty Jail for four months in 1838-39. Finally after months of tribulation for both Joseph and the Saints, he petitioned the Lord for respite and redress. The Lord's response is telling: "My son, peace be unto thy soul; thine adversity and thine afflictions shall be but a small moment; And then, if thou endure it well, God shall exalt thee on high … know thou, my son, that all these things shall give thee experience, and shall be for thy good. … God shall give unto you knowledge by his Holy Spirit, yea by the unspeakable gift of the Holy Ghost, that has not been revealed since the world was until now" (see Doctrine and Covenants 121:7-8, Doctrine and Covenants 122:7 and Doctrine and Covenants 121:26). Truly, a bounteous recompense promised to the man chosen to restore the gospel of Jesus Christ in this dispensation.
Augustin Hadelich played his first violin concert at age 7. By age 15 he was a recognized child prodigy when tractor fuel caught fire on his family's vineyard in Tuscany and he was severely burned on his face and upper body. Advised by a number of doctors that he would never play again, Hadelich endured more than 20 operations and skin grafts and two years of painful physical therapy on his road to recovery.
Because the violin had become so central to his life, "When the accident interrupted everything, it was a huge crisis. I didn't know if I would be able to play again," Hadelich told violinist.com. "But then as I recovered, eventually I started again. I tried playing, and I realized that it was possible."
He described those years as "a very tough time," and that his body was "very weak." Somehow he had to muster the energy and motivation to play again. "Of course, it was a long road. I started playing again, but I had to get better physically and psychologically."
He also had to deal with his physical disfigurement, and in doing so learned a valuable lesson, "I reached a point where I didn't have a problem anymore with how I looked," he told the New York Times. "And then I found that once I reached that point, that other people also didn't mind."
After this wrenching trial, at age 20, Hadelich elected to attend Juilliard, where he was noted for his maturity, his dazzling technique, distinctive interpretative flair, elegant tone and incisive, spontaneous musicality — certainly the result of the effort and dedication needed to overcome both physical and psychological adversity.
I tend to believe the Prophet Joseph Smith was grateful for the lessons he learned in adverse circumstances. I like to suppose Hadelich is grateful for what he had to overcome and the ways it improved him.
Adversity — wintry doctrine — is sublime in its distinctive tutorial ability.
Kristine Frederickson writes on issue-oriented topics that affect members of the LDS Church worldwide in her column "LDS World." She teaches part-time at BYU. Her views do not necessarily represent those of BYU.
Email: [email protected]