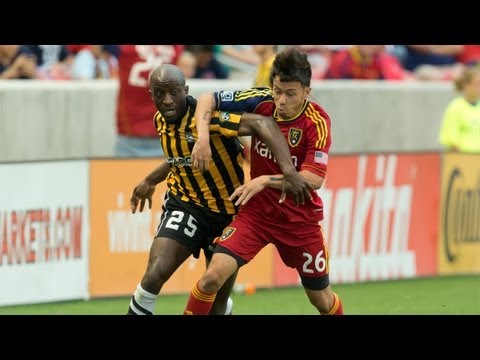 View 18 Items



SANDY — Real Salt Lake dug itself a hole early against the Charleston Battery in the U.S. Open Cup Wednesday at Rio Tinto Stadium. Then, in a 40-minute stretch spanning the final 25 minutes of regulation and the first 15 minutes of overtime, Real Salt Lake exploded offensively, scoring five goals. How? Tactics.
An early 2-0 advantage allowed Charleston to bunker down. As such, RSL was forced to battle 10 Battery men inside Charleston's penalty area for more than 50 minutes. On the occasions that Charleston managed to get the ball past RSL's midfield, the Battery's three-man front line enjoyed a decent advantage in the counterattack game.
Comment on this story
In the end, RSL's offensive-minded substitutions and massive advantage in the possession game, plus a little luck, gave Devon Sandoval two goals, Joao Plata and Javier Morales one goal each from the penalty spot and Khari Stephenson one goal from another 20-yard wonder strike. The final result — a 5-2 victory — was what RSL desperately wanted, even if it took longer and was more difficult than the Claret and Cobalt hoped.
Prior to the match, head coach Jason Kreis repeatedly emphasized the importance of the U.S. Open Cup tournament to both the media and his club. That, along with the fact that RSL is in the middle of a two-week break from MLS play, meant that most of the team's starting 11 came from its regular starting lineup.
When RSL's substitutes came on, everyone knew Kreis was serious about this game. The better-conditioned and technically superior Utah squad simply put the hammer down and dominated.
Here's a breakdown of how each individual position group performed in Wednesday night's match versus the Charleston Battery.
Landon Hemsley is the sports content manager for DeseretNews.com. Email: lhemsley@deseretnews.com. Twitter: @EarlOfHemsley