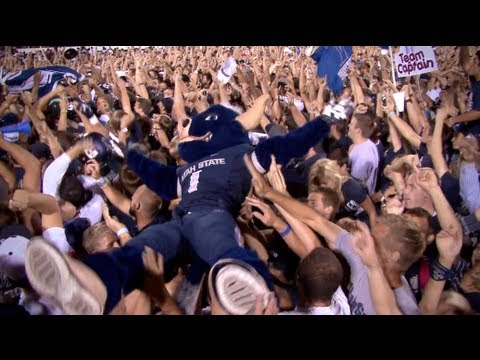 View 2 Items

Week one of the 2013 college football season in Utah features the "Battle of the Brothers" — Utah versus Utah State — at Rice-Eccles Stadium. After last year's game, Utah is itching for revenge, while USU is looking to start a winning streak.
The 2012 version of the Battle of the Brothers was as thrilling as college football gets: an in-state rivalry game decided in overtime. That game proved to be the difference for Utah's postseason, as the Utes' decadelong bowl appearance streak was ultimately snapped after they finished with a 5-7 record.
Though the stakes are undoubtedly higher for the red team, both Ute fans and Aggie fans should be terrified of a week one loss. Given the difficulty of their respective schedules, 2013's "little brother" — the loser — stands a real chance of opening the 2013 football season with a 1-5 or 2-4 record, and its 2013 bowl future will hang by a thread.
Let's begin with Utah. The Utes are facing arguably the most difficult schedule in the history of the program. Following week one against USU, Utah faces Weber State — and then things get incredibly difficult. Utah's next four games after that will be against 2012 bowl teams — Oregon State, BYU, UCLA and Stanford.
OSU and UCLA are toss-ups. Utah has gone 2-2 against them since joining the Pac-12, losing to both last year. Weber State will probably be a win, and Stanford will probably be a loss. The Cardinal have been the class of the Pac-12 over the last three years.
BYU is definitely a toss-up. As has been proved over and over again, nothing is more unpredictable than the Beehive State's best rivalry.
If Utah loses to Utah State and wins in half the toss-up contests, the Utes would be just 2-4 after six weeks — with Oregon, Arizona State and USC still waiting. Ouch.
And what of the Aggies? None can deny that USU's 2013 football schedule is tougher than its 2012 schedule. UTSA, Texas State and Louisiana Tech — 2012 opponents — pale in comparison to Boise State, USC and Air Force — 2013 opponents. And all the easy games come during the second half of the season when the Aggies finally get to play at home.
After opening with Utah, the Aggies will stare down the Air Force Academy, USC and San Jose State, their only September home game coming against Weber State in week three.
San Jose State was the only team to beat Louisiana Tech in the WAC last season besides USU. USC speaks for itself. With all the blocking packages the cadets use, the Aggie defense will be lucky to get out of Colorado Springs, Colo., without any injuries. USU will then return home to take on BYU and Boise State in back-to-back weeks.
Air Force is a toss-up. Weber State will probably be a win. USC will probably be a loss. San Jose State is a toss-up. BYU, another in-state rival, is also a toss-up.
58
comments on this story
If USU loses to Utah and drops half the toss-up games, the Aggies are looking at a 1-5 or a 2-4 start to the 2013 campaign — with Boise State knocking on the door; definitely not a repeat of 2012. The Aggies would only make a bowl game if they rattled off five in a row following the Broncos, a feat which, given the schedule, is doable.
Without a doubt, Utah's bowl fortunes are more dependent on a week one victory than Utah State's. As crucial as September is to college football teams, however, neither one of these two squads can afford to lose that game.
Something's got to give.
Landon Hemsley is the sports web producer for DeseretNews.com. Email: lhemsley@deseretnews.com. Twitter.com/EarlOfHemsley