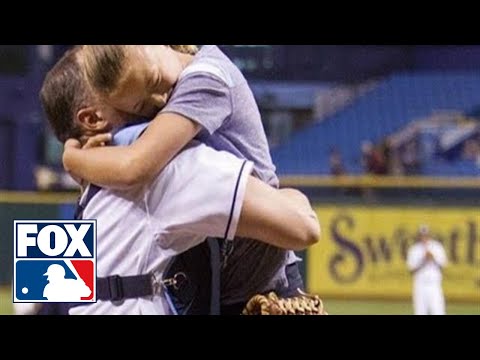 View 2 Items

Nine-year-old Alayna Adams wasn't expecting any surprises when she was asked to throw the first pitch at the Rays-Red Sox game May 16.
Before Alayna pitched the baseball, Alayna's father, Lt. Col. Will Adams, who has spent most of the past two years stationed in Afghanistan, appeared on the giant video screen at Tropicana Field telling Alayna and her mother that he would be home soon.
Alayna smiled and threw the ball down the center to the catcher. What she didn't know was that the catcher was her father. Adams had come home early to surprise his family, and he did just that.
"[I] can't believe I'm finally back with the girls," Lt. Col. Adams said in an interview on Fox Sports. "There are so many service members still overseas and I just really appreciate what the USO and the Tampa Rays could do for us."
Abby Stevens is an intern for the DeseretNews.com Faith and Family sections. She is a recent graduate of Brigham Young University–Idaho. Contact Abby at astevens@deseretdigital.com.